Written by Noluthando Mkhize
Thato Lebyang, who recently gave birth to a premature baby boy, believes that one of the best ways to keep her son healthy is to breastfeed him.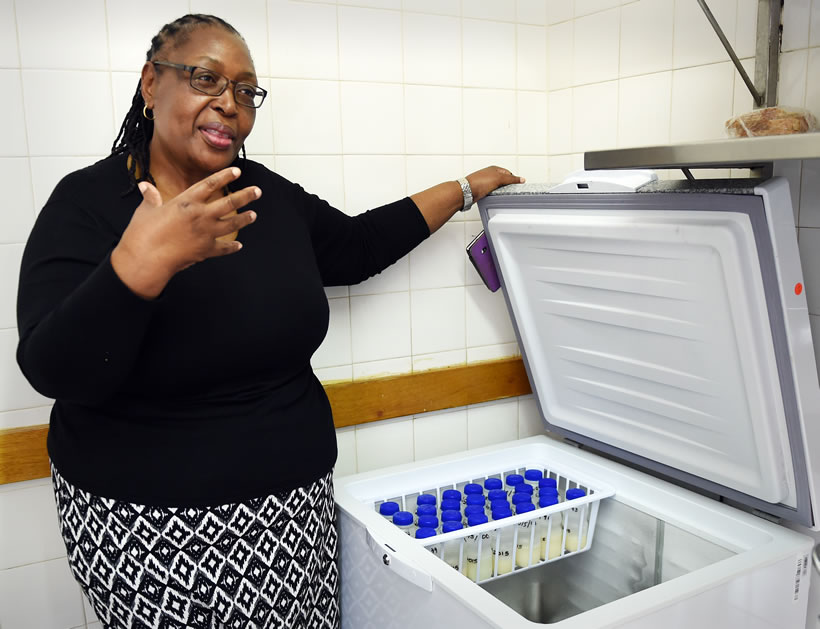 Lebyang's son was born at Dr George Mukhari Hospital and was admitted to the neonatal ward. The hospital is in Ga-Rankuwa in Gauteng.
Lebyang's newborn baby drinks only about 12ml of milk at a time every three hours.
"I enjoy breastfeeding my baby. I know breast milk is one of the best ways that will help my son grow up healthy and strong."
She is one of the lucky mothers who are able to breastfeed their newborn babies.
Lebyang is also one of many women who donate breast milk to benefit other babies and mothers who cannot breastfeed for various reasons.
She does this daily at the milk corner situated at the hospital's neonatal ward. The milk corner then supplies the milk to the South African Breastmilk Reserve (SABR) also known as a human milk bank.
Lebyang said she is proud to donate her breast milk.
"I love helping other mothers like me because a helping hand also receives," she said.
A human milk bank is a storage, processing and distribution facility for donated human milk.
Professor Muthuhadini Mawela is a specialist neonatologist and also the head of the Neonatology Unit at Dr George Mukhari Hospital. She said her unit started collecting donated milk in 2013.
"We noticed that most of the mothers in our ward breastfeed their babies but the newborns only needed a small portion of the milk. The rest of the milk produced by the mothers was thrown away.
"We contacted SABR and offered to donate breast milk. At one stage we were informed that our unit was in the lead for donating breast milk to SABR," said Professor Mawela.
She added that the neonatal ward donates about 40 bottles a month, each containing 250ml of breast milk.
Sister Lillies Masote, the operational manager of the ward, said before the milk is donated her unit first has to get consent from the donors.
"We screen the mothers first for hepatitis and HIV. Once this is done the mother then expresses the milk from her breast. The milk is then frozen and waits for collection by SABR."
When the milk reaches SABR it's pasteurised and heated to 62,5 degrees for 30 minutes and then cooled rapidly to five degrees and refrozen. This takes care of viruses and bacteria.
There are about 50 human milk banks in public and private healthcare facilities across the country.
"The majority of these banks are operated by non-profit organisations. Although some are within the public healthcare facilities, they still receive technical support from non-profit organisations," said Lynn Moeng-Mahlangu, Cluster Manager: Nutrition and Health Promotion at the national Department of Health.
She added that more than half of these human milk banks are not fully operational and are being used as collection posts to collect and store donor human milk before it is transferred to a human milk bank for processing.
National breast-feeding policy
Moeng-Mahlangu said that human milk banks are an extension of a national breastfeeding policy, which seeks to protect, promote and support breast feeding.
"The role of human milk banks in South Africa is to act as an extension of promoting breastfeeding policies, and to ensure that donated human milk is provided to vulnerable infants under safe conditions."
According to Moeng-Mahlangu, vulnerable infants in healthcare facilities are those who are unable to suckle, or whose mothers have underlying health issues that make breastfeeding impossible.
"In some cases, mothers are unavailable or have died. Human milk banks fill this gap by ensuring that breast milk is handled and donated in a controlled and safe environment," she explained.
World Breastfeeding Week
World Breastfeeding Week takes place annually from 1 – 7 August. The Department of Health uses this time to create awareness and promote and support breastfeeding in the country.
According to the department, breast milk is important because of its nutritional value.
"Colostrum is the first yellowish milk the breast produces for the first three or four days after the baby is born. It is regarded as the first immunisation because it is rich in protective substances vital to protect the baby from various infections," said Moeng-Mahlangu. 
He added that from birth to two years, breast milk provides most of the nutrients the baby needs.
Milk by numbers
According to research by the SABR for the years 2013 and 2014:

 64 hospitals are supplied with human milk across South Africa.

8 000 is the number of premature babies helped since 2003.

1 689 is the number of infants breastfed by SABR.
1

093 is the average number of donors supplying breast milk each year.