Learners from Ntongande High School, who used to travel more than 15 km per day in order to get to school, will no longer have to do so this academic year.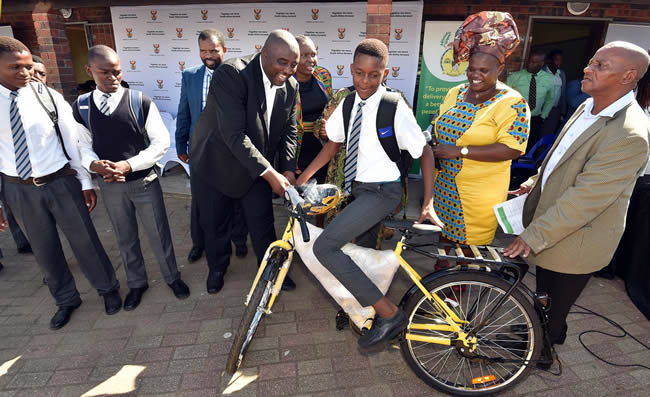 This after Communications Minister Faith Muthambi handed over bicycles to deserving learners in the rural area of Mfolozi, in KwaZulu-Natal, as part of her Back to School Campaign.
"The bicycles are intended to assist destitute students, who are in a desperate situation to get education and we are doing this because we are a caring government," she said.
Meanwhile, the Minister also handed over multi-media centres to six schools in the Ehlanzeni District,
Mpumalanga.
Principal Samson Nkosi of Izimbali Combined School, thanked government for the well-resourced Information Communication Technology (ICT) centre the school now boasts.
The head of the farming boarding school said the centre will have a positive impact on the learners.
"They will be able to do research and write their assignments at the computer centre.
"Teachers as well are going to benefit as they will regularly visit the centre to modify their lessons and find more in-depth information about the subjects they are teaching."
The school has 826 learners, with 30 teachers and a support staff of 29 in total.
"It is a big school and we are still growing because in 2018, we will be introducing our first Grade 12s, and we want to make it known in advance that we will get 100 percent pass rate with distinctions."
Speaking after the launch, Minister Muthambi, who also handed over more than 350 new pairs of school shoes, said: "We are promoting equal education through exposing learners in farming and rural schools to ICT."