Written by Zithini Dlamini
After running a furniture business for more than 20 years, Timothy Nhlengethwa almost gave up on his passion when his business was no longer making a profit.
While attending Comprehensive Rural Development Programme meetings in Mkhondo where he sits as the chairperson of the local cooperatives, Nhlengethwa heard about assistance offered by the Department of Rural Development and Land Reform to rural enterprises that could help his business.  
He made enquiries and eventually submitted his request on behalf of One-goal Multiservice which was approved in 2014.
Through the Rural Enterprise and Industrial Development branch the department bought furniture material, machinery and protective clothing for the cooperative. 
The cooperative is made up of five members including Nhlengethwa, who is the chairperson, three young people and two adults.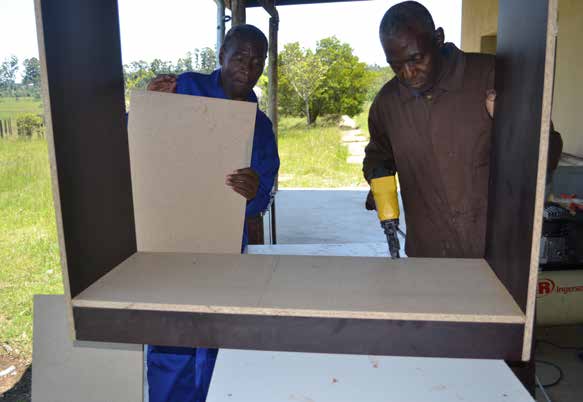 The cooperative works from rented premises belonging to Mkhondo Local Municipality. Their products include chests of drawers, kitchen and bedroom cupboards as well as filing and display cabinets. 
The deputy chairperson of the cooperative, Bongani Mhlongo said they hope to grow the business and attract more customers.
"We also require a showroom where we can … display our products as well," said Mhlongo. Their current premises are not big enough for them to use as a showroom but they are optimistic that their search for a bigger space will come to fruition once the business grows.  
*Zithini Dlamini works for the Mpumalanga Department of Rural Development and Land Reform.