Adopting the habit of working hard from an early age is what secured a bright future for an aspirant mechanical engineer, Olwethu Bitterhout, from the Eastern Cape.
He is one of the 40 beneficiaries from the Class of 2016, who received bursary awards worth R130 000 from the Department of Public Works' Schools Programme.
Bitterhout matriculated from Solomon Mahlangu Secondary School in the Eastern Cape and obtained seven distinctions.
"The only way I managed to get good results was through hard work. I have always been a top achiever. It became a habit to me," said 18-year-old Bitterhout.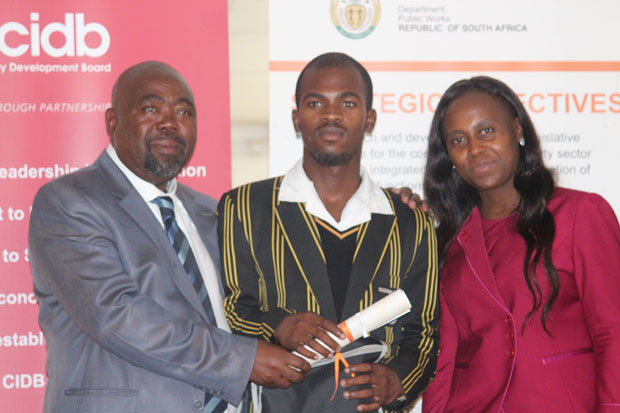 He said maintaining good grades throughout his school years was motivated by a fear of disappointing his parents.
"My parents see me as someone who will change their lives."
Bitterhout hopes to give back to his community once he completes his studies and establishes a career for himself.
Bitterhout will be pursuing his post-matric qualification at the University of Cape Town, starting his first year in 2017.
Two young women amongst the beneficiaries from E.P.P. Mhinga Secondary School in Malamulele in Limpopo, expressed their gratitude to the Department of Public Works. Both Hlavutelo Baloyi and Saqwadi Chavalala also passed matric with seven distinctions, and have enrolled with the University of Cape Town to study for a BSc Actuarial Science.
Chavalala (18) was brought up by a single mother, who also takes care of Chavalala's three cousins. Although her mother works, Chavalala said she cannot afford university fees.
Her fellow learner, Baloyi (16) is one of four children raised by her single mother. She said she was proud of herself for working hard and being awarded the bursary to further her studies.
"University fees are expensive, so this was a relief to my mother as well," she said.
The two advised the Class of 2017 to never let external factors like community protests affect their studies and to focus on their studies. They also called on parents and educators to give learners the necessary support, as this is part of the recipe for getting good marks.