South Africa's social safety net is among the largest in the world and is a lifeline to thousands of needy beneficiaries. The grant system enables children to learn on a full stomach. It enables the unemployed to gain skills and look for jobs.
As we enter Freedom Month 2017, government's attention is focused on working with all South Africans to secure economic freedom for all.
Over the last few months South Africans have been concerned about whether 17 million  grants beneficiaries would be able to fill their stomachs with basic meals and buy essential goods and services.
The payment of grants helped millions of beneficiaries to maintain their dignity as human beings, because in the absence of social grants, our villages, towns and cities would be flooded with citizens  in dire straits.
The grants are made possible by the payment and collection of taxes from individuals and companies, whose contribution to our society is invaluable, and brings security and dignity to our most vulnerable compatriots.
Our social grants programme makes an important difference in the lives of beneficiaries and it has few equals around the world. However, as a society we must, over time, measure success not by how many people receive social grants, but how many South Africans are finding their way into self employment or employment.
Over time, we should see more and more South Africans waking up each morning and make their way to enterprises of their own or places of work where they will be part of our productive economy.
Longer queues at factory gates than at grant pay points will tell us we are moving in the right direction.
Clusters briefed on progress made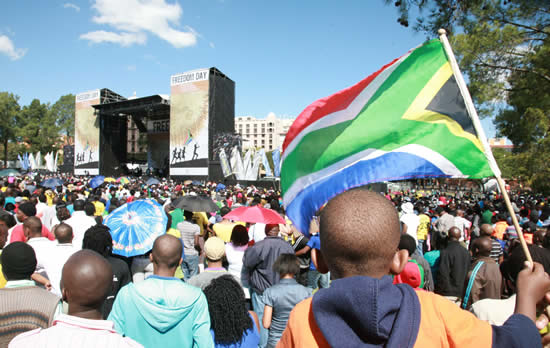 Since my delivery of the State of the Nation Address (SoNA)in February, government's various ministerial clusters have been holding media briefings to share with the nation the "terms and conditions" behind the SoNA: how we are moving South Africa forward.
The Economic Sectors, Employment and Infrastructure Development (ESEID) Cluster has reported that government's Black Industrialists Programme under the Nine-Point Plan to grow our economy has already supported 27 entrepreneurs. This programme has also attracted R2.5 billion in private-sector investment and created 5 235 direct jobs.
In 2016 the automotive sector for the first time exported R150 billion and received the country's largest investment of R11 billion from the Beijing Automobile International Corporation. Construction on this project in underway and production will start next year.
More than R20 billion in industrial finance was approved last year, creating 27 000 direct new jobs and approximately 108 000 indirect new jobs.
More than R180 million was committed to upgrade six industrial parks across five provinces. This month, April 2017, the first phase of the revitalisation of Babelegi (Hammanskraal) and Vulindlela (Mthatha) industrial parks will be launched.
Government taking on youth unemployment challenge
Young people represent more than half (54.4 percent) of the working age population, yet 38.2 percent of the youth are unemployed. Government therefore plans to expand the use of labour-intensive methods focused on the following:
Using the Expanded Public Works Programme in different sectors to create work opportunities for the youth. In the 2016/17 financial year, which has just closed, the Community Work Programme provided 226 213 job opportunities to poor communities and 6 525 participants were trained.
Broadband will be rolled out in 60 townships and 10 Information Technology Hubs will be created with a focus on maintenance services for personal computers, tablets and cellphones; development of content for educational software and applications; computer literacy training; work-readiness training and job search assistance.
The departments of public works, labour (Unemployment Insurance Fund) and higher education and training will launch the training and job deployment programme for youth in buildings and components operations and maintenance of state facilities from June this year.
The Department of Human Settlements will implement 101 mega-projects and roll out the Youth Brigade Programme to 2 000 unemployed and unskilled workers to receive on-the-job training for a year.
The Department of Environmental Affairs plans to offer 35 000 youth opportunities for employment and entrepreneurship in partnership with the private sector. The target is to offer employment opportunities to 100 000 youth by 2020.
Over 74 000 work opportunities are targeted for the employment of youth in road-maintenance programmes as part of the Department of Transport's S'hamba Sonke Programme.
These developments show that government is serious about making more South Africans self-sufficient.
They also prove, contrary to what the media would like us to believe, that government, the private sector and communities are teaming up effectively and constructively to unlock economic opportunities for all South Africans.
Together we are moving South Africa forward.