written by Nthambeleni Gabara
International relations
South Africa's Communications Minister Faith Muthambi hosted Russian Vice-Minister of Telecom and Mass Communication Alexey Volin recently.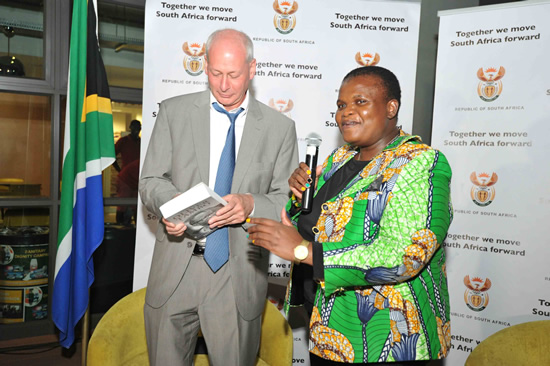 During the working visit the countries agreed that they would share best practice in the area of digital migration and that their respective news agencies would collaborate  to achieve better mutual understanding and provide insights into complex developments, history, traditions and culture.
"By enhancing our shared communication efforts, we will promote not only valuable trade and investment but we will exchange skills in the technology sphere. We will also be opening opportunities for the people of our two countries to learn more about each other," said Minister Muthambi.
Head of International Projects of the Sputnik News Agency Vasily Pushkov and Deputy Director of the Department of External Affairs, representing Tass News Agency, Natalya Alexandrovna, accompanied Vice-Minister Volin.
Migration to digital broadcasting
Both Russia and South Africa are migrating from analogue to digital broadcasting.
 "Today we are starting … on our long way for the development of our cooperation and I hope that our cooperation will be successful and it will be of mutual benefit for the people of our countries," said Vice-Minister Volin
"In Russia, we are finalising the biggest infrastructure programme … for … digital television. We will build … more than 5 000 digital TV stations to spread digital signal in Russia.
"Another sphere of the cooperation is that we should use the new forms of spreading content not only in the national markets, but all over the world, and here we are ready to cooperate with our South African friends, because we have the good technologies and good mobile platforms which give us an opportunity to spread video TV content all over the world.
"We are also ready to enter into cooperation in movie production, spreading of movies and TV series and TV programmes. Russian movies and programmes are currently successful. We are starting to export our TV programmes and series abroad and we want to stress that in this activity, we don't want to be alone," he said. 
News agencies to collaborate
The two countries' news agencies, the South African Government News Agency (SANews, published by GCIS) and Sputnik, have signed an agreement that the two agencies will cooperate in various areas, including news exchange.
There will be exchange programmes for the two countries' journalists with the two news agencies developing a bilateral professional relationship involving information sharing as they strengthen cooperation between South Africa and Russia.
It will benefit the BRICS network as they try to fit into the patterns of information flow in the global media.
Vice Minister Volin said this was a very good signal to Russian media to improve and develop cooperation with South Africa.
This year, the two countries are celebrating the 25th anniversary of lasting diplomatic relations.
South Africa is Russia's biggest trading partner in Africa. The two countries enjoy strong trade relations in the area of mining, energy, agriculture, communications, science and technology.
This is SAnews's first cooperation agreement with a Russian media outlet. SAnews provides up-to-date government news and information to community and mainstream media, locally and abroad.
Sputnik is a modern multimedia news agency with hubs in dozens of countries.