A rural youngster is showing that they have what it takes to be a great jockey and events like the recently held Harry Gwala Summer Cup gives them a wonderful platform to compete against other rural riders.
He is only 25, but Mzamo Plaza Mtshali is already making his mark as a rural jockey.
Vryheid's Mtshali is no stranger to winning; he has won a number of races, including the 2016 Dundee July, the Dumbe Municipality horse riding competition and the Scottville rural race.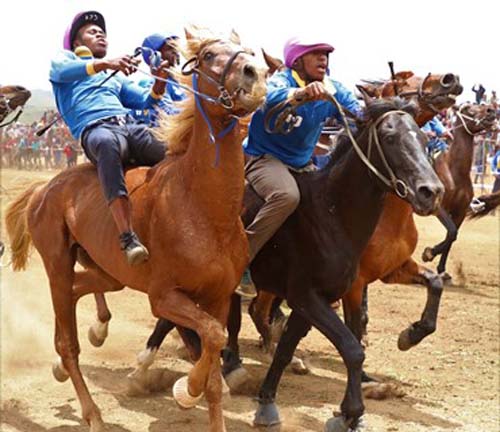 Mtshali also won the Harry Gwala Summer Cup Rural Horse Riding Festival in 2016, and repeated this victory this year by winning the Grade One Local Horses Category of the Cup.
KwaZulu-Natal MEC for Arts, Culture, Sport and Recreation, Bongi Sithole-Moloi was excited by the growing standard of the competition. "After the success of the Dundee July early this year, we were excited to see the standard of the Harry Gwala Summer Cup improving tremendously.
"People should start realising that horses are not only for riding when you want to go the shops, but one can actually create a source of income through horse riding. This is a growing annual event and we want to encourage local citizens to take advantage of available opportunities," said MEC Sithole-Moloi.
Mtshali started riding at five and when he was 10, he was already racing professionally. After consolidating his reputation, he is now geared to train young jockeys. "I want to train young riders between the ages of seven and 14 so that they learn the skills I wish I had when I was starting out," said Mtshali. 
Mtshali said to be a good jockey, you first need to love the animal and study its behaviour.
"Horses are like humans. They need to be taken care of. They need to be given adequate and appropriate feed, water, shelter and quality health care. They also want to be given time to rest before a competition to regain their strength," he said.
Although Mtshali's career is jockeying nicely into place, he is preparing to go back to school to finish his Grade 12. He wants to be a veterinarian to help ensure that race horses are in tip-top shape.