International relations
South Africa and the Central African Republic have committed themselves to working together to enhance close political, economic and social cooperation for the mutual benefit of their people.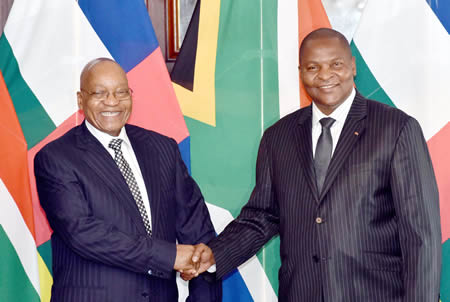 In this regard, the two countries have decided to establish a Joint Commission for Cooperation (JCC) which will manage and coordinate bilateral cooperation. This emerged recently when President Jacob Zuma hosted his CAR counterpart Faustin Archange Touadera, who is on a working visit, in Pretoria.
President Zuma and President Touadera have directed their respective Ministers of International Relations and Cooperation and Foreign Affairs and African Integration to work out the modalities of the JCC, which they believe will boost economic and trade relations between them.
President Touadera used his address to announce that they will build a monument to pay tribute to SANDF members who lost their lives there.
About 15 SANDF members died during clashes with Seleka rebels in the outskirts Bangui in 2013.
Twenty-seven were wounded in the battle. Pretoria had deployed 200 soldiers to CAR in January 2013 to support the poorly trained, ill-equipped government troops following an offensive that had been launched by the Seleka rebels in December 2012.
The SANDF were sent to CAR under an agreement between South Africa and then CAR President Francois Bozize.
 "I would like to take this opportunity to thank President Zuma, the government of South Africa and the South African people who have supported us during the crisis that we experienced in our country. During that crisis there are some South African soldiers that shed their blood in our country," said President Touadera.
Defence Minister Nosiviwe Mapisa-Nqakula said, "It is a very positive step to recognise, acknowledge and honour the soldiers who lost their lives in the line of duty. We hope that in that wall the names of the 15 South African soldiers will be written. For me that allows for us to close the chapter. It will allow for the families of these soldiers to go to the monument and honour their loved ones - a process that we will facilitate - and close the chapter."