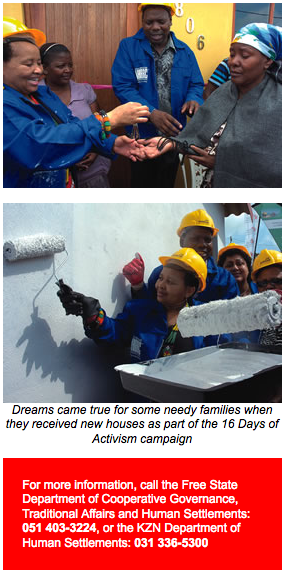 The 16 Days of Activism for No Violence Against Women and Children campaign brought tears of joy to the community of Warden in the Free State. Dreams came true when ten houses were handed over to child-headed families, the disabled and others who had been living here in poverty. Similar projects are also in progress in other parts of the country.
As the 16 Days campaign drew to a close in December last year, the families had reason to celebrate as they received their own houses.
The houses were officially handed over to the families by MEC for Cooperative Governance, Traditional Affairs and Human Settlements,
Mosebenzi Zwane.
Reason to smile
Thirty-year old Nesta Mosia, whois unemployed, was one of the recipients of a new house. She takes care of her four siblings and her
child. The family survives on the social grants of her four siblings and previously lived in a one-bedroom house inherited from their parents, who have since died.
Twenty-two year old Mannini Makgalemele also had a reason to smile after she was handed the keys to a new home. As head of the household, Mannini cares for her two teenage siblings and her three-year old child. The family has been struggling to survive after their grandmother died in 2008 and her pension grant, which had supported the family, was stopped.
In memory
Another would-be recipient was 86-year old Mme Mthembu. She lived in a one-room shack and was looking forward to moving into her own house with her two children, five grand children and three great grand children. Sadly, she never had a chance to do so, as she passed away while the home was being built. But her children will now take ownership of the house in her memory.
Food parcels
Similar projects are in progress in Hobhouse and QwaQwa where homes for other needy families are being built.
Apart from receiving houses, needy families also received food parcels as part of government's programme to ease poverty.
KwaZulu-Natal
As part of the 16 Days of Activism campaign, houses were also handed over to needy families in KwaZulu-Natal.
Among them was a family fromShongweni, who had been living in poverty and fell victim to a vicious crime last year. A poor family from St Wendolins who still suffer the consequences of a violent murder in the family, also received a house.
– Samona Murugan