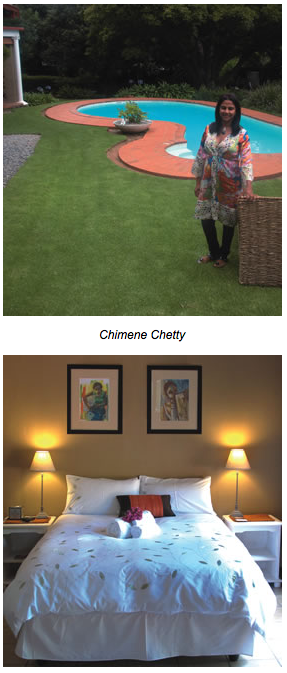 Hardly a year after the co-owner of a guesthouse in Rosebank,
Gauteng, registered with the Tourism Enterprise Partnership
(TEP), the business has seen remarkable growth. TEP is a
programme of the Department of Tourism that aims to help upand-
coming entrepreneurs in the tourism and hospitality sectors.
The Rosebank-based Lilogo Lodge registered with the TEP programme in October 2009. Lodge manager, Chimene Chetty, says she was new in the tourism sector and needed someone to guide
and mentor her in her young business.
"I needed support and mentoring to get information and understanding of the sector and its challenges. It is very isolating for entrepreneurs entering a new space for the first time," said Chetty. She asked for help from the Department of Tourism and they referred her to TEP, which has helped her business to grow.
Training
Chetty got training in different aspects of the business. These included marketing and business management, finance, and human
resources.
The lodge started with one permanent staff member and one temporary staff member. It had a monthly income of about R9 000. It now employs five permanent and two temporary staff members with a monthly income of about R50 000. Lilogo Lodge is 100 percent owned by black women and they employ mostly women. Chetty says she also supports small businesses and most of her suppliers are small business owners.
Environment friendly
Environment friendly Lilogo Lodge is environmentally friendly through careful management of lighting, heating, maintenance, supplies, and waste. The lodge also uses low-flow showerheads in its bathrooms to save water.
In addition, the lodge is involved with greening activities in areas such as Alexandra Township where it has formed a partnership with locals to build a community nursery.
Warm hospitality
Chetty aims to ensure that guests have a home-away-from-home experience at the lodge, promising warm hospitality and a comfortable stay. "I try to create a comfortable, enjoyable and safe experience for visitors," she said.
Rize Mzansi
Lilogo Lodge was featured in the government-funded television
reality show, Rize Mzansi, as an example of how government programmes help SMMEs to grow their businesses. The TV reality
show was broadcast on SABC1 between September and October 2010.
-Mbulelo Baloyi
"Being featured on Rize Mzansi certainly helped to expose my business to a wider audience and potential market. The partnership has also helped me to keep in touch with developments in the sector and with our grading process with the Tourism Grading Council of South Africa."
– Chimene Chetty