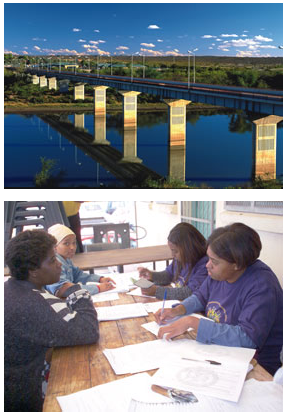 In an effort to improve service delivery, the Local Government and Traditional Affairs Department in the North West province has started various programmes in different municipalities in the province. The programmes are part of the Municipal Turnaround Strategy, which helps solve problems affecting service delivery at local government level.
Service delivery in the North West province is on the road to recovery thanks to government's Local Government Turnaround Strategy. Programmes in the province include the development of a correct and reliable list of all people who use and receive municipal services such as water, electricity and waste removal. A culture of paying municipal bills will also be promoted.
Credit and debt control
In addition, there are programmes in place to help ensure that the creditcontrol and debt-collection departments of the affected municipalities work efficiently.
A system to ensure that there is a correct and reliable way of reading water and electricity meters, will also be set up. Furthermore, a correct and reliable register of households that cannot afford to pay for municipal services will also be developed. This will give affected municipalities an idea of how many households within their areas will have to be exempted from paying for services such as water, electricity and waste removal.
Billing systems
Currently, five municipalities in the North West stand to benefit from the payment and debt-collection project for a period of six months. These are Mahikeng, Tswaing, Lekwa Teemane, Ventersdorp and Naledi local municipalities. The project is aimed at helping them to improve their financal situations by creating reliable and correct billing systems.
In addition, the project will help the municipalities to carry out a correct property evaluation exercise to help with the collection of the municipal property rates.
A culture of payment
Part of the project will include promoting a culture of payment for services. This will include alternative customer paypoints to make it easier for people to pay their municipal accounts.
The project will also see the setting up of customer care call centres to make it easier for residents to get help when they have problems or questions about their accounts.
- Mbulelo Baloyi
Restoring the capital city's image
As part of the turnaround plan, some work has already started in and around the province's capital city, Mahikeng (formerly known as Mafikeng) and surrounding villages. This includes repairing of potholes and street lights, as well as clearing of illegal refuse dumping sites.
These improvements are all part of a comprehensive service delivery improvement plan by the Mahikeng local municipality. It aims to ensure that the municipality's image is restored so that it can hold its head high and be a proud capital city for the province.
For more information, contact the North West Department of Local Government and Traditional Affairs on 018 387 3000