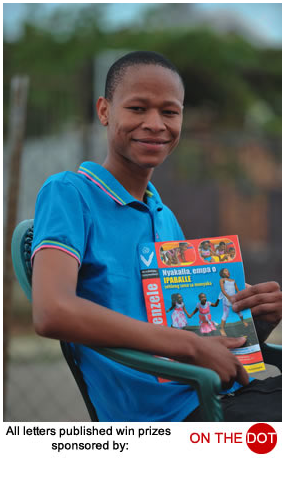 Winning letter
To the class of 2010 – we are all achievers!
As a fellow matriculant, I would like to dedicate this letter to all the 2010 matriculants. We prepared for our matric year from the minute we learned to read and write and suddenly those scary exams were just around the corner! Let us not forget that there is no failure in not doing well, but there is failure in not having tried. The year 2010 was full of distractions for us, but we learnt to toughen up a bit. We had been running the race together until the time arrived to reach the finishing line.
We don't want to be remembered for our good results, but for the race we ran in 2010 – it's not about winning the race, but about how we ran the race. For those who didn't make the grade, just remember that you are not a loser – we are all achievers for having reached matric. For that let us be our own cheerleaders even if we feel the world has neglected us!
- Archibald Rooi , Klerksdorp, Gauteng
Lead by example
Mothers and fathers should lead their children by example. Children look up to them and often follow in their footsteps. Therefore parents should display positive, good and motivational behaviour and set the right example. By being good examples, parents can help combat problems like crime, domestic violence and abuse. No one is born a thief, an abuser, a highjacker or a doctor. Like father like son, an abusive man or a drinking father can transfer his bad habits to his young sons. So, I beg the readers of Vuk'uzenzele to lead by example.
– Z.D. Ndlovu, Ebusi Village, KwaZulu-Natalt
Take responsibility
The failure rate at schools keep on increasing and when students and learners are asked why they fail, they say that teachers are not doing their jobs, while knowing that they are not doing their own duty by studying at home. They don't want to focus on their school work at home for just 30 minutes a day, but when it comes to entertainment and relationships, 30 minutes a day is not enough.
Blaming teachers for failure and not taking responsibility for their own bad performance leads to more learners not matriculating. Be careful of the impact of things that you spend most of your time doing, whether they are positive or negative.
– Khamadi Joseph, Allanridge, Free State
Don't live to regret
American R&B singer, Mary J Blige, once said that education was the bridge to life. It is very true, but we, the youth of today, don't always realise this until we reach the stage when we have to stand up for ourselves. Some of us don't finish matric and end up having no option in life, only regrets and blame. I'm an example of this. I played at school, disrespecting my teachers and forgetting that my own future was the one I was playing with, not my teachers'. It is said that whatever you do will affect you for the rest of your life. Don't forget this, so you won't live with regrets.
– Phahlane Gadifele, Ga-Rakgoadi, Limpopo
Change bad habits
Habits uncorrected are habits repeated and habits repeated are results repeated. You cannot expect different results if you don't change the way of doing things – it would be insane. If you keep on doing the same thing in the same way all the time, you will keep on producing the same results all the time. If you want to change the results you must change the habits.
– Samuel Radebe, Heilbron, Free State
Too many teen pregnancies
My heart is torn apart when I see the high rate of pregnancies in our schools. Beautiful young girls are dating much older men who are supposed to be like fathers to them. Girls are only dating them because they offer greater financial security than boys. But instead of protecting them, they infect them with diseases and cause unwanted pregnancies. This increases the already high level of school drop-outs and contributes to the many abortions that are taking place!
– Mokhabuki Godwin, Tzaneen, Limpopo
Your letter is relevant to the issues discussed in our health feature.
– Editor
Set realistic goals
During the first few months of the new year we often make new year's resolutions. Making plans to improve your life is a great thing to do, but it's pretty useless if you don't see them through. It's no use setting goals that are impossible to achieve, like being the boss of your company while you're still in a junior position now. Make realistic goals, be clear about what you want to achieve and believe that you can do it.
– Rebecca Kanyane Letshedi, Ga-Marishane, Limpopo
Farmers do a great job
I would like to encourage and convey my compliments to the people who are working on the farms. Those people are doing a great job. They are the pillar of the nation. Some have gained many years of experience on farms. But unfortunately they often think they will be better off if they leave farms and move to Johannesburg to work on the mines. People must stop thinking about Johannesburg or mines. We should rather shift our mindsets to make things happen for ourselves – Vuk'uzenzele!
–Zoyisile Nicholas Mavumengwana, Sandhills, Western Cape
See main feature on page 30.
– Editor
The best thing ever
Vuk'uzenzele is the best thing ever and I feel it has to be praised. It has changed our lives and has made us proud to be South Africans! You have helped many jobless people to put bread on the table by introducing the opportunities that government offers. It has made it possible for boys and girls to further their studies by introducing bursary and loan schemes; small businessmen are happy to see their businesses grow because the magazine introduced agenices that provide training. You are a mother to the nation. Keep on doing a good job.
-Johann Mathiane, Ga-Mushi Village, Limpopo writer
WRITE TO:
Vuk'uzenzele, Private Bag X745, Pretoria, 0001, or e-mail: vukuzenzele@gcis.gov.za.
If you don't want to have your real name published, you may use a different name, but you must include your real name and address to us.
PLEASE NOTE:
To win a prize, you must include a physical address and a contact telephone number in letters to us.
All letters will get a response.