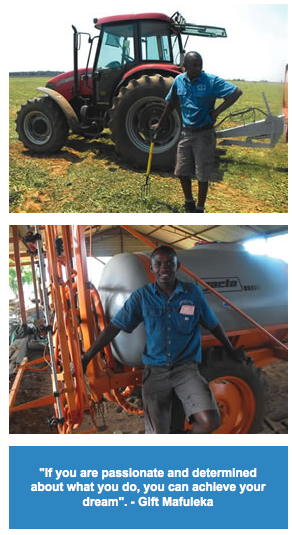 Making a difference in his community through his passion for farming has been a life-long dream for Gift Mafuleka of Bronkhorstspruit. Gift, who is only 29 years old, is a young commercial farmer who is successfully managing a 342-hectares farm. He employs 11 women from the community and serves as an inspiration to other young people who dream of making a success of farming.
A huge billboard, which reads Mphiwe Siyalima, welcomes visitors to Gift Mafuleka's farm near Bronkhorstspruit. Loosely translated this means "Using our given talents, we are farming together".
Gift believes there is a need for more young people from historically disadvantaged communities to get involved in the agricultural community. He employs 11 women from the community.
New Life
Gift, who received a five-year lease from the Department of Rural Development and Land Reform for a portion of the Leeuwfontein farm in the Metsweding District, is breathing new life into the agricultural community. This is an industry which many young people regard as reserved for the older generation.
The farm, which covers an area of about 342 hectares, can support about 60 hectares of irrigation, 70 hectares of arable land (land that can be used for ploughing and planting crops) and seven hectares of extensive vegetable land.
BTech degree
Gift was born in Esikhawini, Richards Bay in KwaZulu-Natal and says his love for farming grew from helping his grandfather who was a subsistence farmer in the area. This led him to obtain his BTech degree in crop production.
After graduating from King Bhekuzulu College in Nongoma, Gift joined McCain Foods South Africa as a crop manager based at the Leeuwfontein farm.
Productive use
Gift was determined to become a farmer. So, with his mentor, Tim Hedges, a former colleague at Mc- Cain, he approached the Department of Rural Development and Land Reform. The land belonged to McCain at the time. Government acquired the farm as part of its Proactive Land Acquisition Strategy (PLAS), which aims to speed up the land redistribution process and ensure maximum productive use of the land.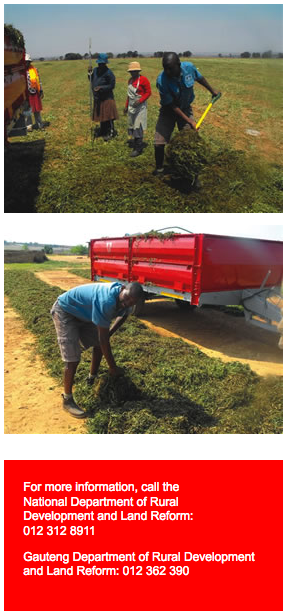 Passion
Irrigation equipment has been installed at the farm as part of the agreement with McCain Foods. McCain also bought farming equipment valued at R450 000 for the project.
Gift will be planting peas in winter and sweet corn in summer. The equipment will be paid off through the income generated by the delivery of peas and sweet corn to McCain over the five years. The department has furthermore approved funding of over R1 million to be used to cover key production expenses.
Gift believes if you are passionate and determined about what you do, you can achieve your dream.
– Samona Murugan and BuaNews