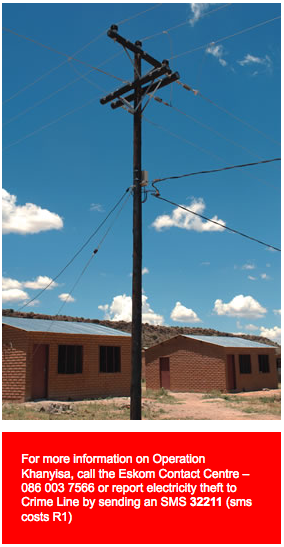 Electricity theft is costing the country more than R4,4 billion per year. All South Africans are therefore urged to work together to stop electricity theft. Operation Khanyisa is an opportunity to do this. It is time to do the right thing - the power is in your hands.
The electricity-saving campaign known as Operation Khanyisa (isiZulu for "enlighten" or "light up") has the support of Business Against Crime of South Africa (BACSA), Business Unity South Africa (BUSA), Primedia Crime Line, Proudly South African and the South African Local Government Association (SALGA).
Illegal connections
Sloppy illegal electrical connections is a familiar sight throughout
South Africa's towns, cities and rural areas. Poor people are usually
blamed for electricity theft, but shocking findings show that businesses and agriculture are also involved in this crime.
Electricity theft causes overloading of the network, which finally leads to power cuts. This leads to things like loss of productivity and traffic jams.
Use, don't abuse!
With its slogan – Use, Don't Abuse– Operation Khanyisa urges every
South African to help stop the abuse of electricity. Electricity theft is costing the country more than R4,4 billion per year. About 60 per cent of this amount is theft committed by business, commerce and agriculture. The remaining 40 per cent is theft committed by residents
through illegal connections.
Non-residential electricity thieves include owners and operators of major industries who use methods that bypass electricity meters.
Through Operation Khanyisa, Eskom focuses on employees in the electricity industry, electrical contractors and municipalities urging them to stop getting involved in criminal activities through stealing electricity.
Illegal electricity connections and exposed wires can cause serious injury or even death.
Tougher punishment
Eskom Chief Executive Officer, Brian Dames, said Eskom has asked the Justice Department and the National Prosecuting Authority to change the law to make electricity theft a form of sabotage.
This will lead to tougher punishment for electricity thieves."Electricity theft and the theft of copper cables often cause major disruption in as far as power supply is concerned," said Dames."This causes serious disruption to transport and telecommunications across the country," he said.
Crime Line
The aim of Operation Khanyisa is to mobilise South Africans to prevent and not to participate in any form of activity related to electricity
theft.
Eskom hopes that partnering with Primedia's Crime Line will go a long way in preventing electricity theft. Crime Line has had notable
successes with members of the public reporting crime using the SMS
service, 3221.
– Mbulelo Baloyi