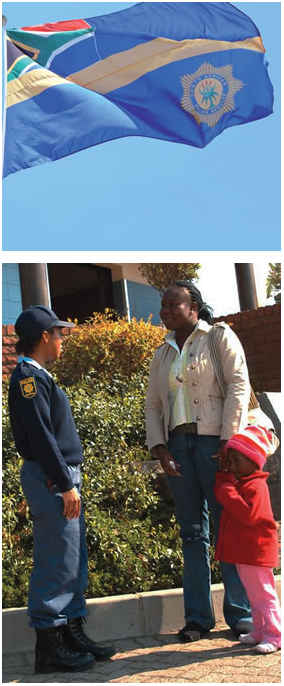 In support of government's 16 Days of Activism campaign for No Violence Against Women and Children, 141 court preparation
officers have successfully graduated from the Ke Bona Lesedi Training Programme. Court preparation officers who complete the training are referred to as "freedom fighters for victims of crime."
Ke Bona Lesedi, which means, "I see the light" in Sesotho, is a training programme run and managed by the National Prosecuting Authority (NPA). The programme teaches court preparation officers (police officers responsible for preparing witnesses to testify in a court of law) the necessary skills to prepare such witnesses. The programme focuses mainly on women and children who had been victims of abuse.
Special training
Preparing witnesses and victims of crime to testify in court, makes a
huge difference in the criminal justice system, said Karen Tewson, the
programme's national coordinator.
The idea of a training programme for court preparation officers came to Karen while she worked closely with the South African Police Service and with abused children. She realised that officers needed special training when dealing with people who had been victims of abuse, crime and trauma. According to Karen, there has been very littlesupport for such victims.
"They are usually extremely traumatised and have difficulty to testify effectively in court, especially young children".
SAQA
After thorough evaluation, the NPA decided to adopt the programme as part of their responsibilities and procedures.
The role of an NPA-based court preparation officer has now been properly established and the training programme has been streamlined and brought in line with the South African Qualifications Authority's (SAQA) requirements.
Ensuring justice
Thousands of cases are prosecuted every year and there are only about 2 000 prosecutors in the country. Court preparation officers are
therefore needed to provide a very important service alongside prosecutors. They address the needs, fears and concerns of victims and help them feel at ease.
By doing this, they play an important role in assisting the NPA to achieve its vision of ensuring justice in our society so that people can live in freedom and security.
Victims or witnesses of crime or abuse, can report incidents by telephone, in person at Community Service Centres, at police stations, or to members of the police patrolling in the community.
- Samona Murugan
The role of court preparation officers is very important as it helps to relieve the stress for victims and witnesses. For them, the court environment is usually unfamiliar and scary. Having to testify is stressful, because they are not sure what is expected of them. Court preparation officers inform them about court procedures, what will be expected of them and how to effectively testify in court.
For more information about the Ke Bona Lesedi Training Programme, contact the National Prosecuting Authority on
012-845-6000