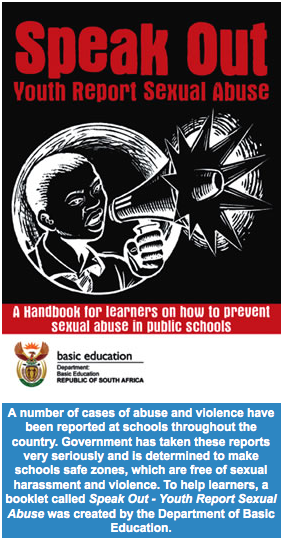 Sexual harassment and violence in schools prevent learners from enjoying their right to equality and dignity. Learners who are victims of sexual violence, sexual harassment and abuse are seriously affected. Their self-esteem and confidence drop, they become emotionally withdrawn, do not attend some classes or stay away from school, which affect their grades.
Communities must stand together and act against abuse. Report and stop abuse!
The opening and closing ceremonies of the festival will be held on 13 and 21 December respectively at Orlando Stadium in Soweto.
Code of Conduct
In 2008, the Department of Education issued Guidelines for the Prevention and Management of Sexual Violence and Harassment. The aim was to help schools and communities to deal with cases of sexual harassment and sexual violence against learners.
Every school also developed a Code of Conduct, which is a set of rules explaining what is acceptable and unacceptable behaviour. All teachers and learners are expected to sign the Code of Conduct and commit themselves to respect the rules. If a teacher is caught behaving in an unacceptable manner, he or she will be charged with misconduct.
Speak out
Unfortunately sexual abuse is often not reported due to fear and victimisation. Many young people and their parents are afraid to report teachers and other community members, because they fear the negative reaction or ridicule they may face. Government's handbook for learners Speak Out - Youth Report Sexual Abuse, aims to inform and empower learners through knowledge to recognise and act against sexual harassment and sexual violence. It shows learners how to protect themselves from abusers and where to get help. The handbook also provides contact details of national and provincial organisations that can help.
Legacy
As the host country for this event, it will also be an opportunity for South Africa to build on the spirit and legacy of the 2010 FIFA World Cup. It is a chance to continue to show the world that we are great hosts. It will promote our country as a tourist destination and continue to raise awareness internationally.
The handbook Speak Out - Youth Report Sexual Abuse is available at:
www.education.gov.za
. For more information, call the Department of Basic Education hotline: 0800 202 933. To report abuse, call the Gender Equity Directorate: 012 357 3373
- Samona Murugan
Beware of unregistered colleges
Many matriculants are looking for tertiary institutions where they can further their studies. Those who were not accepted at universities, universities of technology or Further Education and Training (FET) colleges, often turn to private institutions.
Because of peer pressure to study at a tertiary institution, some students wil enrol at any college that will accept them. But they often overlook basic important information before registering, like whether the institution is registered with the Department of Higher Education and Training.
Unsuspecting students often only realise
halfway through the year that the institutions they are registered with are not legally registered with the department. This comes at a huge cost of wasted money and time, as the qualifications offered by these unregistered colleges will not be recognised.
To prevent would-be students from falling into the trap of enrolling at unregistered colleges, the department offers guidelines about what to look for before they register.
The Department of Higher Education and Training publishes the Register of Private Further Education and Training Colleges on its website. The Register lists colleges that are provisionally registered.
The public, parents and students are advised to check the registration status of private FET colleges in the Register of private FET colleges on the Department's website.
The website address is: www.education.gov.za.
– Mbulelo Baloyi
For more information on the registration status of private FET colleges, contact the Department of Higher Education and Training: 012 312 5878 or 0800 734 338.