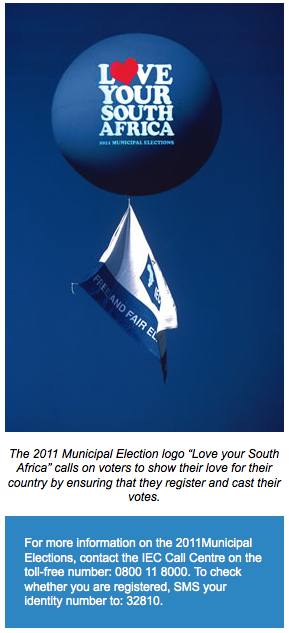 Preparations for the 2011 Municipal Elections started when the Municipal Demarcation Board (MDB) submitted the country's new wards to the IEC on 1 September 2010.
The MDB is a legal body responsible for making municipal boundaries. In addition, it also establishes new wards and voting districts.
Mass participation
The IEC's campaign is aimed at promoting mass participation of all people who are eligible to vote in the 2011 Municipal Elections. The campaign will also help with voter information such as the location
of voting stations throughout the country.
Voting districts
The 2011 municipal elections will take place in eight metropolitan councils, 226 local councils, 44 district councils and 4 277 wards.
The IEC has established 20 868 voting districts for this purpose, with 633 of the voting districts serving as voting centres and dedicated to servicing voting districts with many people.
All the 20 868 voting districts had their stations opened for registration during the weekend of 5 and 6 February 2011, which was a voter registration weekend. Another voter registration weekend will be held before the elections.
Just over 60 000 registration officials were trained for the voter registration weekend. The commission will also appoint 196 000 election officials for election day.
A sense of belonging
The campaign, with its slogan "Love Your South Africa", aims to encourage a sense of belonging. It makes a call to all eligible voters to respond to their love for their country by ensuring that they register and vote in these elections.
The IEC has also activated its toll-free Call Centre number 0800 11 8000. The toll-free number has been operational since 3 January 2011 and is open from 8 o'clock in the morning to 5 o'clock in the afternoon. Voters can call in to ask any questions relating to registration and voting procedures.
SMS facility
Voters can also use their cell phones to check their registration details through an SMS facility. This facility is user-friendly and is available
on three networks, namely Vodacom, MTN and Cell C.
All you have to do to check your registration details is to type in your identity number and send it to 32810 from any of the three networks. In return, you will receive confirmation of your registration details.
South Africans will soon be able to exercise their right to vote for their municipal representatives. The five-year term of the present municipal administrations, which started on 2 March 2006, is coming to an end in March and new municipal elections will take place in May.
– Mbulelo Baloyi and IEC