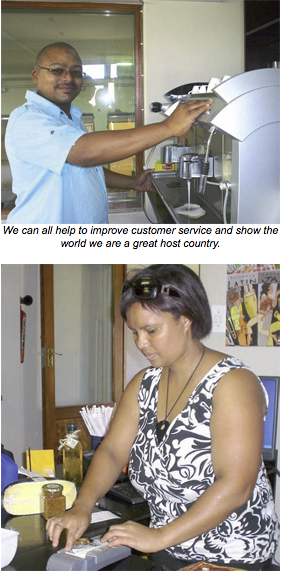 South Africa is the proud host of the biggest sporting event the African continent has ever seen. To ensure that we are the greatest hosts the world has ever seen, the Department of Tourism has launched a service delivery drive leading up to the World Cup.
The Tourism Service Excellence Campaign was started to take service excellence in the tourism industry to greater heights. This is to ensure that our visitors experience African hospitality at its best.
The drive aims to improve overall customer service, to show the millions of guests expected for the games what warm, African hospitality is all about.
Service excellence
By improving the skills of employees in the service and tourism industry, tourists' experiences in South Africa will be more pleasant. This will encourage them to visit our country again and to recommend it to their friends and fellow countrymen as a great place to visit.
To achieve this, the service excellence campaign teaches employees to be more efficient, friendly and helpful to visitors and make their stay a pleasant one in whatever way they can.
Goals
The short-term goal of the drive is to deliver memorable and unforgettable service by ensuring that the focus of the hospitality industry is to always put service excellence first.
The long-term goal is to transform South Africa into a globally competitive service economy and to make the country a world choice destination.
Disney Institute
To help train employees in the service industry, the Department of Tourism has called on the expertise of the Disney Institute. The institute has trained over a million professionals from 35 countries around the world. Workshops focusing on service excellence have been created and run in each of the World Cup host cities from April to June 2010.
The campaign will create and transform the customer service culture during 2010 and beyond. Employees from the service industry like police, transport officials, local government, tourism officials, embassies and immigration, home affairs, and from the tourism industry like bank officials, hotel staff, restaurant staff, airport officials, shopping mall assistants, and employees from places where overseas guests will visit are currently being trained. All employees who undergo the training receive Tourism Excellence certificates and badges.
Everyone can help
Government also calls upon the general public to help make our visitors feel welcome. Every South African can help improve service and show the world we are a great host country.
- Samona Murugan
For more information on the service workshops, call 0861 453 666 or visit www.tsei.co.za.