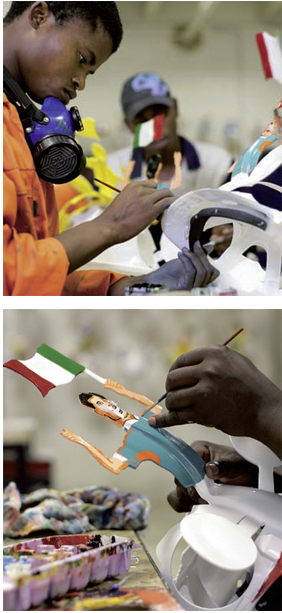 They are colourful, fun and 'fashionable'. Of all the bits and pieces surrounding soccer in South Africa, one of the most striking 'proudly South African' creations is the makarapa, worn by soccer fans to show support for their teams. You can create your own - all you need is a hard hat, paint, glue and lots of creativity.
Makarapas have become a vital part of South African football. With thousands of football fans expected in South Africa next month for the world's biggest sporting event, loads of makarapas have been made in the national colours of the 32 participating countries.
Make your own
You can unlock your creativity and make your own makarapa!
You will need:
a plastic miner's hat or construction site safety hat
paint in the colour of your favourite team or the national colours of the country of your choice
glue to stick on decorations like pictures, flags and miniature footballs
if you want to bend, shape or cut your hat, you will need a small gas stove to heat and soften the plastic
if you want to cut out different shapes, you will need a box cutter.
Tips
Before painting your hat, make sure you have the right paint - some paints are not suitable for plastic and will peel off. Ask the shop assistant at your hardware or art shop to recommend paint that is suitable for plastic, for example 'quick-dry' enamel.
Make sure you have the right kind of glue that will stick on plastic. You can ask advice at your hardware shop.
If you decide to heat your hat, be careful not to overheat it as the plastic can easily melt, which will ruin your hat.
Before cutting out anything, make sure exactly where you want to cut so that you don't cut away too much.
Decoration
After you have shaped and painted your hat, it is ready to be decorated with different images or football-related items.
These can include cut-out pictures of your favourite football players, small footballs, vuvuzelas, bicycle bells, giant false spectacles, slogans, flags or the names of your favourite teams. You can also add small horns of goats or buck.
Use your imagination for more ideas, get the whole family to join in and have some creative fun.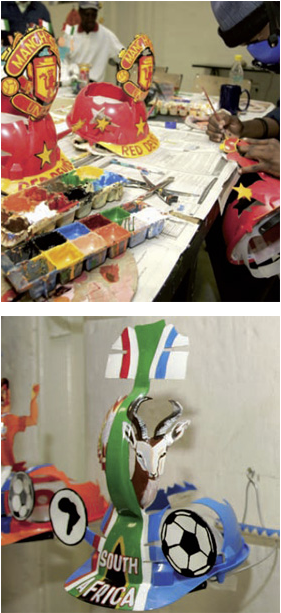 - Mbulelo Baloyi