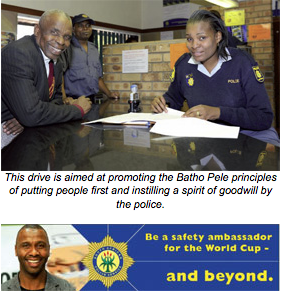 In addition to providing security for the world's greatest football tournament, police officers and civilian staff members are also prepared to be good ambassadors. They are ready to provide warm and friendly service during the 2010 FIFA World Cup and beyond.
The Good Ambassador Campaign was launched by the South African Police Force (SAPF) in April. The message of the campaign is "Be a good ambassador for the 2010 FIFA World Cup and beyond".
Every one in every community has been called on to display a humanly attitude of welcoming guests and assisting them with whatever information from whichever sector they may need. Families of police members have also been asked to support them during this period, and to be "proud to have been part of the 2010 FIFA World Cup and the security team".
Batho pele
The goal of this drive is to promote the Batho Pele principles of putting people first. It aims to instil a spirit of goodwill by police members and all citizens of the country, before, during and after the 2010 World Cup tournament.
Raising awareness of the campaign includes advertisements on domestic airlines. There will also be posters at all police stations in the nine provinces. In addition, there will be activities linked with the Football Friday campaign.
Banners
Count-down pull-up banners have been put in police buildings with the aim of creating and keeping up excitement for the World Cup. Exhibitions at the country's airports in host cities have also been put up.
A performance featuring well-known actors has been put together for country-wide road-shows. Well-known footballers including South African Tourism 2010 World Cup Ambassador and former Bafana Bafana Captain, Lucas Radebe, are also part of the campaign. Radebe will be the Safety Ambassador for the Good Ambassador Campaign.
Defence Force
In addition to the SAPF, the South African National Defence Force will also play an active role as good ambassadors during the World Cup.
Its medical section, the South African Military Health Services, will play a supportive role to the country's medical and disaster management teams in all the host cities.
The Medical Services will ensure that visitors to South Africa experience world-class and friendly medical assistance when needed.
- Mbulelo Baloyi
The South African Police Force is not only prepared to ensure a safe World Cup. They are also ready to be good ambassadors for our country and to serve with a smile.
Police Crime Stop Line: 08600 10111