South Africa has become one of the biggest electricity users in the world. More and more households are using electric heaters, stoves, kettles, geysers and other electric appliances. As a result, the country has experienced power cuts because the high demand could not be met.
Most methods of heating water like electric kettles, stoves, or geysers use a lot of electricity. To help reduce our country's electricity usage, government has launched a programme called the National Solar Water Heating Programme. Solar heaters don't need electricity because they take energy from the sun. Solar energy can be used for cooking, heating and cooling in your home. Through the programme, government aims to install at least one million solar water heaters free of charge by 2014 to homes throughout the country.
Save money
Because solar water heaters don't need electricity, open coal or wood fires, the air we breathe will be cleaner and less trees would be chopped down for wood.
Solar heating panels are installed on top of roofs. Once the solar panels have been installed in your home, you don't need electricity to heat your water, so you will have free hot water. This means you will save money on your electricity bills. The programme will also create jobs, because people will be needed for the manufacturing, installation and maintenance of the solar heaters.
Benefits
The solar water-heating programme is implemented in phases. The first phase of the programme saw 270 households in Winterveldt near Pretoria enjoying the benefits of the new solar water heating system.
In phase 2, 10 400 solar water heaters will be installed in homes in other parts of the greater Tshwane municipality.
Apart from households, bigger users of energy like prisons, hospitals, clinics and schools will also be encouraged to use solar energy to heat their water.
WORLD BANK LOAN WILL HELP KEEP
ELECTRICITY PRICE LOW
South Africa's demand for electricity has been increasing steadily over the past years. This is the result of our fast-growing economy. To help our national electricity supplier, Eskom, to meet this growing demand and keep the price of electricity low, it received a loan from the World Bank.
The R32 billion World Bank loan is an urgent plan to help increase electricity supply and at the same time keep the price of electricity low. The loan, with a very low interest rate, will be paid back over a period of 30 years.
The loan will be used to complete work on Eskom's giant Medupi power station. Medupi is under construction in Lephalale in Limpopo and will be completed by 2013. It is part of several new power stations planned to meet the rising power demand.
Biggest of its kind
The Medupi power station is the biggest of its kind in the southern hemisphere. Medupi and the planned Kusile power station are the last coal-fired power stations to be built in South Africa. These two power stations can each produce 4 800 Megawatts (MW) of electricity.
Government made a promise to the World Bank that in future the country would use nuclear energy for electricity. Nuclear energy has many benefits, including a cleaner environment.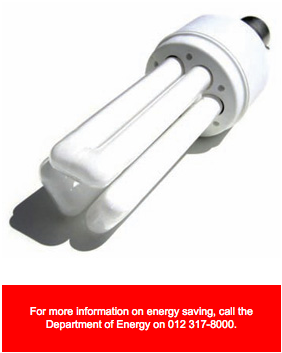 Benefits for the people
When the World Bank decided to grant Eskom the R32 billion loan, it based its decision to support the loan for the benefits for South Africa's people. A power shortage would have a negative effect on the people, the economy and the entire Southern African region.
The loan is important as it will ensure that there will be no more power cuts in South Africa once the new coal-fired power station starts working.
 
CHANGE TO LOW ENERGY BULBS
Eskom is encouraging people to save energy by replacing energy-consuming light bulbs with energy-saving bulbs. To help households save energy, Eskom is distributing energy-saving bulbs free of charge, especially in poor areas where people are struggling to survive.
Installers appointed by Eskom are visiting homes to replace energy-consuming bulbs. Energy-saving bulbs, also called energy-efficient bulbs, last six times longer than normal bulbs and use five time less electricity than the normal bulbs.
For security reasons, people are asked to look for an Eskom identity card before allowing anybody who claim they are from Eskom into their homes.
Tips for saving energy in the home
Geyser: Your geyser uses 39 per cent of your monthly energy usage. Switch it off to save energy. Don't forget to insulate the geyser and water pipes.
Shower: Take a shower instead of having a bath; showering uses less water than bathing. It uses less hot water which means less work for your geyser.
Lighting: Replace all your bulbs with energy saving bulbs, also called Compact Fluorescent Lamps (CFL). Remember to switch lights off in rooms that are not being used.
Stand-by electricity: Don't leave your TV, DVD player and other appliances on stand-by mode. They still use up to 50 per cent of their operating power. Rather switch the power button off or unplug the appliance.
Cellphones: Don't forget to unplug your cellphone charger after your phone has been charged; it will continue to use power if left in the power socket.
Refrigeration: Close your fridge door quickly so it doesn't use extra power to get back to its normal cooling level. Also ensure that fridge and freezer doors are properly sealed to prevent cool air escaping.
Remember the golden rule that applies to saving electricity in the home or office: If you're not using it, switch it off.