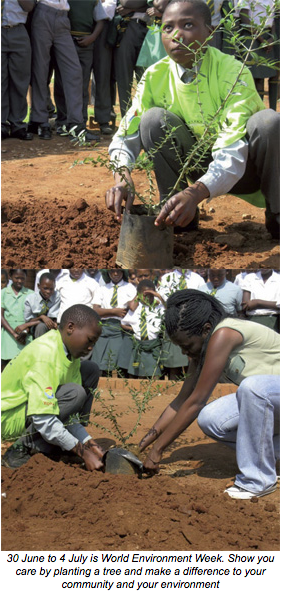 Tribute Mboweni is only 23 years old, but she is already making a big difference in her community and at schools. Since completing her studies in Eco-Tourism, Mboweni felt a need to teach people about caring for the environment by planting trees.
"People in my community did not understand what they could do to save and conserve our environment, and not many of them understood what eco-tourism was all about," Mboweni said. She decided that she wanted to change this.
Planting trees
Mboweni, who studied at the Tshwane University of Technology, started her project, called Project 23 - the Green Movement, to teach young school children the importance of environmental conservation. The project teaches children about caring for the environment by planting trees.
With help from the Department of Agriculture, Forestry and Fisheries and the Department of Water Affairs, Project 23 is now registered as a non-governmental organisation (NGO).
Making a difference
The project is very successful and is already making a difference in many communities across the country. It encourages schools and families to plant trees and to use eco friendly products that do not harm the earth.
Mboweni entered the project in the Bayer Young Environmental Envoys competition and won.
For her hard work and achievements in her community, Mboweni has been chosen as an Environmental Youth Minister and will represent South Africa at the Environmental Youth Summit in Canada in May.
The summit is an opportunity for many young leaders from different countries, like Mboweni, to meet and talk about environmental issues.
How you can be more environment-friendly:
plant more trees
use fabric or paper shopping bags instead of buying plastic ones - plastic harms the environment because it doesn't decompose (break down)
recycle and re-use paper, glass and plastic
don't litter; throw your rubbish in bins - littering harms the environment
save energy and water n don't use harmful detergents for cleaning - use eco-friendly products.
- Samona Murugan
We should plant trees because they:
filter pollution from the air
help recycle water
prevent soil loss
give shade and shelter from wind and rain
provide homes for animals
produce food for people and animals
provide wood for furniture and building
beautify the environment
For more information, call
Tribute Mboweni: 076 471 1278
Department of Agriculture, Fisheries and Forestry: 012 319-6000
Department of Water Affairs: 012 336-7500