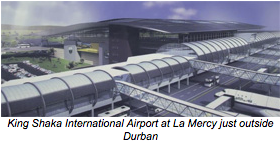 Durban is ready to welcome football players, fans, supporters and visitors to the World Cup in style at its brand new, modern King Shaka International Airport. The new airport replaces Durban's old international airport, which has become too small to handle the increasing number of visitors to the city.
King Shaka International Airport is situated at La Mercy some 35 kilometres north of Durban's city centre.
The Airports Company of South Africa (ACSA) opened the doors to the airport on 1 May. It has been built with the latest technology to make it a world-class experience for visitors. A lot of hard work, training and dedication has gone into making the change-over from the old airport as smooth as possible.
Longer runway
The land to build a new airport was bought forty years ago, but construction only started in August 2007. Three years later, the airport boasts a 200-hectare terminal platform and a 3,7 kilometre runway.
The new extended length of the runway will make it possible for more international flights and larger aircrafts to land in Durban. A second runway is planned to handle growing traffic.
Plans are also in place to ensure that the airport will be able to handle rising numbers of passengers. Numbers are expected to grow from 7,5 million in 2010 to well over 45 million in the future.
Job creation
Hundreds of jobs have been created in the construction and transition of the airport.
In addition, together with Dube Trade Port, the airport forms a regional development node. This includes the 36-hectare Trade Zone, which will accommodate a cargo terminal, a perishables centre, warehousing and light manufacturing facilities. The cargo terminal is fully mechanised and automated, the first of its kind in South Africa and only the second in Africa.
Built with pride
The new world-class airport has been built with pride to ensure that our visitors and all other airport users leave with positive memories of an enjoyable experience.
The following airlines have been allocated ticket sale counters opposite their check-in counters: Air Mauritius, British Airways Comair, Kulula, Mango, 1 Time, SA Airlink, South African Airways and Emirates.
- Samona Murugan
IT'S EASY FOR EVERYONE TO USE MOBISITES WITH THEIR CELLPHONES
Most people have access to a cellphone and this means you are holding the Internet in your hands. Government understands this. Mobile phones will be important to access information during the World Cup. If you need to be kept informed and up-to- date, here are some of the more important World Cup sites that you can log onto: SA2010.gov.za; Fifa.com; Southafrica.net; Southafrica.info; findyourway2010.co.za. Go ahead and try them
For more information, call the King Shaka International Airport on 032 436 6000 or 032 436 6584