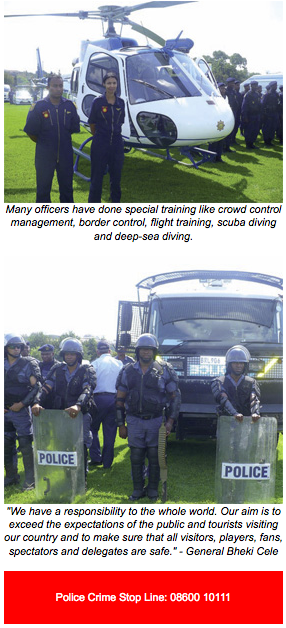 "Residents and foreign visitors can rest assured that the World Cup will be safe and secure." These are the confident and assuring words of National Police Commissioner General Bheki Cele. Cele, along with members of the Southern African Regional Police Chiefs Cooperation Organisation (SARPCCO), presented their security preparations, re-sources and manpower at a state of readiness demonstration.
South Africa is ready to ensure a successful and memorable FIFA World Cup. To safeguard the World Cup, the South African Police Force (SAPF) is ready to serve and protect. The force has spent R665 million on equipment and training of officers on land, at sea and in the air.
Technology and equipment
Technology and equipment have been upgraded. These include six Robinson R44 Raven II helicopters, two Eurocopter Squirrel single-engine light utility helicopters, 10 water canons, some mobile command vehicles, 300 mobile cameras, 54 BMW patrol vehicles, body armour, diving equipment, sniper rifles, a bomb disposal robot and bomb disposal suits.
More officers
To increase officers on duty, 50 000 security personnel will be deployed. This includes 31 000 full-time police officers, 10 000 reservists and 9 000 military personnel. Of the 41 police officers on duty, more than 9 000 would be allocated to public order policing. The Metro and Traffic Police will also be on duty during the World Cup.
Special training
Many officers have done special training, like crowd control management, border control, flight training, scuba diving, deep sea diving and more. These security measures have been approved and welcomed by the police chiefs and security experts from the 31 participating countries.
A National Joint Operation Centre and Provincial Joint Operational Centres were started in May and all officers reported for duty on 24 May.
More officers
To increase security measures further, tactical response teams have been created and will be on duty at each centre. These part time special weapons and tactics-style units will deal with low to medium risk situations that are too dangerous for police officers without special training.
The National Intervention Unit and the Special Task Force (STF) will deal with the medium to high-risk situation like terrorists, cash-in-transit robberies and armed criminals. This unit is one of the top three security organisations in the world.
- Samona Murugan