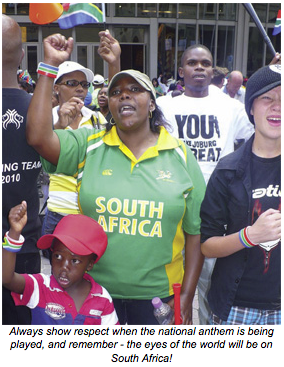 Singing our country's national anthem will be a highlight of the 2010 World Cup - so we must do it with pride and passion. But we must also show respect when other countries' anthems are played. We must be ambassadors for our country at all times.
Our national anthem is our country's mark of honour and we should sing it with pride, passion and respect. This is why it is important to learn the words to the anthem and to behave in a respectful way when singing it.
Remember, the eyes of the world will be on South Africa during the World Cup.
Respect
There are a few rules to obey when singing the national anthem:
Always show respect when the national anthem is being played or sung.
Do not play any loud music while the national anthem is on.
Stand upright and pay attention when the anthem is being played or sung.
Do not sit down during the anthem, this is disrespectful.
Do not talk to friends or shout on your cellphone during the anthem.
Do not blow a vuvuzela during the national anthem.
You may hold your right arm across your chest or in the air, or both arms at your sides while singing the national anthem.
Be polite
It is also important to be respectful of other countries' anthems, football supporters, players and officials at stadiums or any other public places.
Be polite and helpful at all times - remember you are a representative and ambassador for South Africa.
Do not blow your vuvuzela or make any noise during the opening ceremony or when there are public announcements.
Never behave rudely towards foreign visitors; always be friendly and show respect.
Listen to officials at the stadium and obey the rules.
Don't throw your litter around the stadiums or public viewing areas - use the bins provided and keep our beautiful country clean.
Be proud
Encourage your families, friends and communities to learn the national anthem and to be respectful when it is played. Be proud of your anthem and sing it with pride.
- Samona Murugan