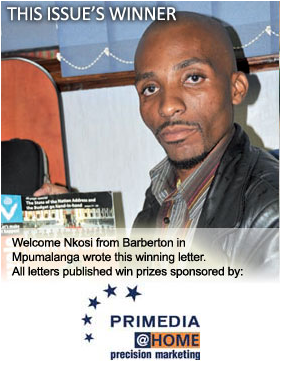 WINNING LETTER
Unite behind Bafana and let them shine
As a winning nation, let us today stand, rally and unite wholeheartedly behind Bafana for the 2010 FIFA World Cup spectacular - the first to be staged on African turf. Our founding fathers were conquerors and we are too! The fact that we won the hosting rights under adverse conditions and against all odds, means we can also win it for the beautiful continent of Africa. Let us have confidence in our boys, coach Parreira and his dedicated technical team. Given our support, they will shine, for nothing is impossible. History has proven that host nations often do well because of player number 12. Let us cheer Bafana and the other participating African teams all the way. In a nutshell, let us be inspired by the African dream of success and glory!
- Welcome Nkosi, Barberton, Mpumalanga
Letters
Thumbs up, South Africa
Only a few days are left before the World Cup. It's time we embrace the countries of the world who are getting ready to set foot on our shores. Let every South African be ready to show the spirit of ubuntu to our visitors! Yes, we can! We can host the World Cup. We are part of the global community. Let us prosper together. Let us unite and not entertain negativity. Our economy, politics and tourism will be boosted. Thumbs up South Africa, the dream has come true.
- Siyabonga Twaku, Queenstown, Eastern Cape
 
Let's shake the world with soccer
Every Friday we have a campaign called Football Friday when each South African can wear a football jersey with the purpose of reminding us that soon South Africa is going to shake the world with soccer.
I'm calling on all South Africans to wear their green and gold beautiful Bafana jerseys to show the world that they are proudly South African and to convince those who have been saying that we are unfit to be the host that they are wrong. Let's stop wearing the jerseys of European teams such as Chelsea and Liverpool and wear our own team's jersey. As proudly South African, let us do the right thing.
- Tshediso Richard Koloti, Botshabelo, Free State
We are feeling safer
I would like to congratulate the Crime Prevention Forum of Emalahleni Municipality for creating a programme of street committees. I also give thanks to the people of the community who volunteer to help prevent crime in our community, because now we are feeling much safer. At night there is no noise and we sleep well without fear.
- Nokuthula Pika, Indwe, Eastern Cape
Be alert and save a life
Suicide is a very scary situation that we are often faced with. Many people believe killing themselves is the only solution to their problems. This is certainly not the case.
Most often people who are in this frame of mind reach out for help, but we unintentionally or unknowingly ignore their plea. We need to be alert and realise when someone needs our help. This could help save a life.
- Brian Ramahlo, Namakgale
Destructive words hurt
Many young people doubt their abilities to succeed in what they do. Family members often play a major role in shaping their lives. Parents sometimes use destructive words when talking to their children, for example "you will amount to nothing". Such words may lead the child to believe that he will never achieve success.
Comments that fail to build young people, lead them on a bleak path on which they trudge without looking forward to positive developments in their lives.
- Mphulanyane Simon, Botshabelo, Free State
Have a giving heart
Some people think giving help to the Haitians was a waste of money. Here in South Africa we have people who are suffering, like homeless street kids, so why do we pass them by and help the Haitians with food and shelter. But we have international relationships and there is a difference between poverty and disasters. Maybe in future we will need help from other countries, so let us have a good heart of giving - by giving your hand is blessed.
- James Jabuza, Kwamhlanga, Gauteng
Littering is senseless
Wherever we go we should throw our rubbish in a dustbin. If there's no dustbin, keep it with you until you find a dustbin to throw it away, even at your home. It is understandable if the wind or storms blow rubbish around, but if we just throw things anywhere it doesn't make sense. So, let's learn not to litter and to be passionate about a clean environment.
- Qinisela Zuma, Weenen, KwaZulu-Natal
Thank you Vuk'uzenzele
I grew up with kids who were into drugs and alcohol. Living with only a single mother and a little sister. We had financial problems so I thought maybe if I became a sex worker it would make a difference. Then my mother got sick and it was my responsibility to take care of my little sister. One day reading Vuk'uzenzele, there was a letter which changed my life - it said "don't blame poverty". Since then I've changed. I'm selling sweets and chips and I'm doing my first year in journalism and freelancing at a local newspaper to gain experience. Thank you Vuk'uzenzele.
- Sizwe Ndaba, Mthatha, Eastern Cape
Don't believe in failure
Some of us seem to think how we were brought into this world should define the rest of our lives. Yes, you did not choose how you came to this world, but you can decide how you want to live your life. Most people wrongfully believe that some of us are born to be failures, while others are born to be successful. Failures are those who choose to give up. So it's up to you to turn your dreams around. Being born in a poverty-stricken house is never a guarantee that you will end up the same.
- Matome Kubu, Arcadia, Tshwane
WRITE TO:
Vuk'uzenzele, Private Bag X745, Pretoria, 0001, or e-mail: vukuzenzele@gcis.gov.za.
If you don't want to have your real name published, you may use a different name, but you must include your real name and address to us.
PLEASE NOTE:
To win a prize, you must include a physical address and a contact telephone number in letters to us.
All letters will get a response.