DIABETES - you can lead a normal life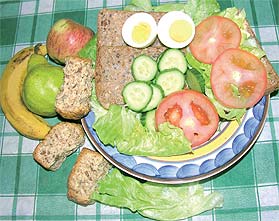 Some call it 'sugar' or sugar diabetes, and others just call it diabetes. More than 200 million people worldwide have diabetes. In South Africa, there are about four million people with diabetes. November is Diabetes Awareness Month. During this time, the Department of Health will educate and make people aware of diabetes.
What is diabetes?
Many people believe eating too much sugar causes diabetes, but this is wrong. Diabetes is caused when the level of glucose (sugar) in the blood is too high.
This happens when the body cannot make enough insulin or does not use the insulin properly. Insulin is a hormone in the body that carries glucose from the bloodstream to be used by the body for energy.
Signs of diabetes
Many people don't know that they have diabetes. If you have any of the following signs of diabetes, you must go to your clinic or doctor for testing:
feeling thirsty all the time;
feeling hungry more often than usual;
urinating more than usual;
feeling tired;
unexplained weight loss;
unclear vision; and
slow healing of skin infections.
Dangers of diabetes
If people with diabetes do not control their diabetes by eating correctly and taking medicine given by their doctor, they can experience problems. These include going into a coma, kidney failure, heart disease, stroke and blindness. Fingertips and toes can also fall off.
Can diabetes be cured?
There is no cure for diabetes. But if people with diabetes take care of themselves properly they can avoid problems and enjoy a long and productive life. It is important to control weight, and blood pressure, avoid fatty foods, get regular exercise, drink lots of water and stop smoking.
What should a diabetic person eat?
Eating healthy food is a very important part of controlling diabetes. Your clinic or doctor will give you advice on how to eat correctly and draw up a special eating plan for you.
Healthy eating guidelines
Eat regular meals and snacks.
Include food that is high in fibre, like whole-wheat bread, vegetables and fruits.
Avoid white bread, cakes, sweets and sweet drinks.
Limit fatty foods, sugar, salt and alcohol.
Avoid fried food; rather steam, bake, boil or braai your food.
- Ndivhuwo Khangale
TYPES OF DIABETES  
Type 1: Also known as insulin-dependent diabetes. Children usually get it and it is usually diagnosed before the age of 40.
Type 2: Also known as noninsulin dependent diabetes. Adults usually get it and it is mostly associated with overweight.
Gestational diabetes: This type starts during pregnancy and usually disappears after the child is born.
For more information
on diabetes, contact Diabetes South Africa: (011) 792-9888/7;
or the South African Diabetes
Association: (011) 483-0341
Write to:
Vuk'uzenzele Health Advice
GCIS
Private Bag X745
Pretoria, 0001
E-mail us on: vukuzenzele@gcis.gov.za
The Department of Health will advise you.