HOW OUR DEMOCRACY WORKS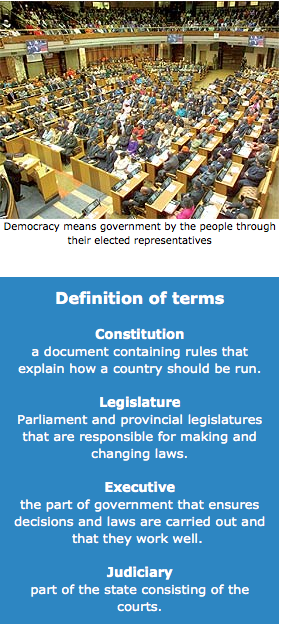 GOVERNMENT'S POWERS IN ACTION
South Africa is a constitutional democracy. This means the country is ruled in line with its Constitution by representatives elected by the people. The Constitution is the highest law of the land. All other laws and behaviour must be in keeping with the Constitution.
Three parts
The Constitution divides the powers of government into three parts:
legislative powers (making and changing laws);
executive powers (managing the day-to-day functions of government); and
judicial powers (the system of justice and courts of law).
Each power (part) is carried out separately by one body of the state. The Constitution separates these powers to prevent giving more power to one body and to ensure each body gives attention to its tasks. The national and provincial lawmaking bodies make laws at the national and provincial levels. At the municipal level, the municipal councils make laws relating to municipal matters. The President has the executive powers of the country. In the provinces, the Premiers have the executive powers and in the municipalities, the councils have the executive powers. The courts have the judicial power of South Africa.
Independent courts
The President cannot take part in the decisions of the courts, because the courts are separate and independent from the Executive. This means the courts are only guided by the Constitution and the country's laws. No state body may interfere with the manner in which courts operate. Judges are appointed by the President with the help of the Judicial Service Commission. The Commission is made up of a number of judges.
Constitutional rights
If people or organisations believe that the courts, the President or Parliament, have not respected their constitutional rights, they can appeal against the findings. For example, a person can appeal against the outcome of a court case and it will be re-examined. If state bodies are accused of abusing their power, there are separate bodies that investigate the charges. These include the Public Protector, the Human Rights Commission, the Public Service Commission and the Constitutional Court. Court officers have to promise that they will be faithful to South Africa, support, respect and protect the Constitution, and run the administration of justice without fear, favour or discrimination.
- Justice Mohale
 
Contact Overstrand at 028-3138054 or call 1020 to find out more