KEEPING IT BRIEF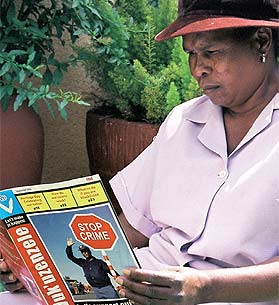 Share your copy of Vuk'uzenzele
Knowledge is power and Vuk'uzenzele is a source of knowledge. The magazine was started last year for people who had little or no access to information in the past. It tells poor and unemployed people about government's programmes and opportunities that could improve their lives. We know that most of you would like to have your own copy of Vuk'uzenzele, but at this stage government can only print a limited number. It is part of our culture to share. Sharing what we have shows that our people have a spirit of 'botho' or 'ubuntu'. Because 'botho' , a Sesotho word for 'humane', exists among us, we ask our readers to share their copies of the magazine with each other after they have read it. If there is information that is important to you, you can write it down before passing the magazine on. Remember, by sharing the information we don't only show our spirit of 'ubuntu' , but help to empower each other. 
- Staff Reporter
'Ubuntu' is a spirit among Africans that encourages working together as a group for the survival of the whole community. This is a result of surviving poverty through collective effort.
---
Mpumalanga
As part of efforts to fight hunger and poverty, the Mpumalanga provincial government handed over farming equipment worth more than R2 million to the Kadishi Cooperative. This community-based farming project in the Graskop area of the Thaba Chweu Municipality, is made up of about four farming communities. They received tractors, ploughs, planters, harvesters, seeds and fertilizers.
- BuaNews
---
Free State
A new trauma unit was opened in the Pelonomi Hospital in Bloemfontein in October. The unit is the biggest of its kind in the country and will give much-needed training to health professionals. Pelonomi is one of two hospitals on the renewal programme of the Free State's Health Department. It serves the Free State, as well as parts of the Northern Cape and Eastern Cape.
- BuaNews
---
North West
A R70-million health centre in Itsoseng township near Lichtenburg is being built. 14 staff houses, an Emergency Medical Services block, a mortuary and a guardhouse have nearly been completed. The project has created more than 100 jobs for local people who were previously unemployed.
- BuaNews
---
Northern Cape
Leading up to the 2010 Soccer World Cup, government is putting R395 million into developments at the Kgalagadi Transfrontier Park in the Northern Cape. Kgalagadi, previously known as the Kalahari Gemsbok National Park, celebrated its 75th anniversary in September. It was the first transfrontier park in Africa. A transfrontier park extends across South Africa's border into another country.
- BuaNews
---
  Eastern Cape
The Development Bank of Southern Africa approved R54 million to build a salt crystallisation plant at the Coega Industrial Development Zone near Port Elizabeth. The zone is high on government's list of projects to bring economic benefits to the Eastern Cape, create jobs, speed up industrial development and promote international trade. About 200 jobs will be created during the building phase, which is due to start in February 2007.
- BuaNews
---
KwaZulu-Natal
Needy students have received bursaries from the provincial department of Social Welfare and Population Development to complete their studies in social work. The bursaries are worth R16 000 each and are aimed at addressing the shortage of social workers in the department. On completion of their studies, the students will have to work for the department for an agreed period.
- BuaNews  
For more information about the news items featured on this page, call 1020