IMBIZO FEEDBACK
INTEGRATED DEVELOPMENT PLANS - HELPING TO REACH DELIVERY GOALS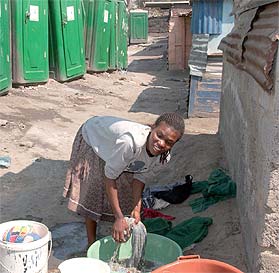 Poor service delivery is a major problem for many communities. It is among the issues most often raised during National Imbizo Weeks. Leaders from all levels of government visit communities countrywide during izimbizo. One aim is to find out what progress has been made with service delivery. It also aims to put plans into place to speed up delivery. This is part of government's programme to make sure our lives are better.
Economic development
The last Imbizo Week was held from 26 to 31 October this year. During this time, special focus was placed on local economic development. A strong economy will help our local governments improve service delivery. For this reason, municipalities adopted five-year development plans after the local elections. As part of the five-year plans, every municipality must have an Integrated Development Plan. 'Integrated planning' means that all processes work together for future development. Integrated Development Plans will help municipalities to reach the goals that have been set for service delivery, like getting rid of the bucket system by 2007.
Poor planning
Development plans are necessary because apartheid left behind towns and cities that were poorly planned.
In these towns:
business and residential areas were separated by race;
there were big differences in the level of services between the rich and poor areas;
rural areas were left underdeveloped with almost no services;
poor people lived far from the town centre and had to travel long distances to work.
Overall framework
With integrated development planning the entire municipality and its people work together to find the best solutions to the poor planning of the past. Public participation takes place through community meetings, discussions, forums and opinion surveys. An Integrated Development Plan is an overall framework for an area's development. It brings together the work of local government and other levels of government to improve the quality of life of all people living in the area. The plan looks at conditions and problems in the area. It looks at what is already available in the area and finds out what is most needed to speed up development.
- Louise van Niekerk
We need Integrated Development Plans because:
they help speed up delivery;
they help local municipalities to focus on the most important needs of their people;
government departments and private companies will be more willing to put money into municipalities that have clear development plans;
the whole community takes part and decisions are made in a democratic way;
they help to overcome the problems left by apartheid;
the different levels of government work together to deal with problems.