UNDERSTANDING THE LAW
CONTRACTS: DON'T JUST SIGN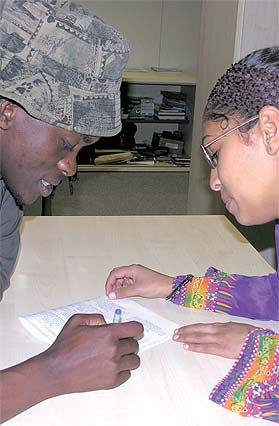 Like many youngsters in townships playing soccer, Sipho Ndzuzo's dream was to see himself wearing a professional team jersey. After passing matric in 1994, Ndzuzo, then 21, could not believe it when one of the Premiership Soccer League teams asked him to play for them. Ndzuzo didn't care about the blank contract he had to sign; all he wanted was to become a professional player who would be famous and make money.
Wanted to move
That blank contract nearly destroyed Ndzuzo's life. He had to stay with the team for four years when he only wanted to be there for a year. When he wanted to move to other clubs, he was told that he had signed a four-year contract and couldn't go anywhere. 'It was my first contract and I didn't know what I signed for,' said Ndzuzo, who is now the general secretary of the South African Players' Union. Many people have found themselves in similar situations. They didn't understand what they were signing. This doesn't only happen in work situations, but also when buying on credit, getting a bank loan or other forms of credit.
Written contracts
A contract is an agreement between two parties. It can be an agreement to provide services or sell goods on credit in exchange for money that is paid over a specific period of time. Written contracts are there because verbal (spoken) agreements are difficult to prove when the two parties have different stories.
Before signing
A contract agreement should be in writing. Both the service giver and the receiver, for example a worker and an employer, must read and understand it before they sign it. Both should keep a copy of the contract. If for some reason you have to sign a second contract, do not think it is the same as the first one; treat it as a new contract. Before signing, make sure you understand what you are signing. If you are buying goods on credit, the contract agreement should say exactly what goods you are buying; for example, the model and the serial number of the machine. If it is a loan, the contract must give the amount of money you borrow, the interest rate, other charges like finance charges, monthly instalments and the period of repayment. If it is a job contract, the contract should state the kind of job, what is expected of you as a worker, the period of your employment and the salary.
Proof
When someone says that you have signed a contract and you know nothing about it, ask for proof that you have signed it. If necessary, get a lawyer to assist you.
- Ndivhuwo Khangale
A contract should be in writing. You must read and understand it before signing.
For more information on contracts, call 086 166 2837, or 1020