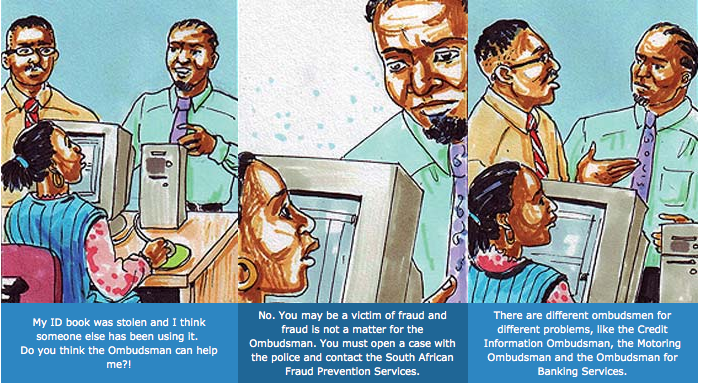 Ombudsman - a person who represents consumers.
The Credit Information Ombudsman is there to help people who are unhappy with the way the Credit Bureau handled their problems. When people call about problems that have nothing to do with credit, the ombudsman will not be able to help. There are different ombudsmen and bodies that deal with specific problems.
The Credit Ombudsman can only help you:
when there is wrong information on account payments - for example, if you know nothing about the debt you are blacklisted for.
if old credit information still appears on your credit report for longer than the normal period.
when the shop or company (credit giver) that sent your information to the credit bureau did not give the correct information.
when the shops did not let you know that you would be blacklisted.
when you did not pay your account because you lost your job.
when you have been blacklisted for the same thing twice.
when you were blacklisted after you were a victim of fraud.
Where to go for other matters
Theft and fraud: For example if you suspect your ID has been stolen and that a fraud has been committed, you can contact the police and open a case. Then call the South African Fraud Prevention Services at (011) 869-6460.
Debt recovery and repossession: For example if someone wants to collect your goods without your knowledge or collect more money than you owe, you can contact the Council for Debt Collectors on (012) 804-9808.
Employment: For example if you apply for a job and the employer gets your credit report without your permission, while the position has nothing to do with money or credit, you can contact the Association of Personnel Service Organisations on (011) 615-9422.
Banking: For example if you have any complaints with the bank, their services, products, the way you have been treated, or loss of money through the bank's fault, contact the Ombudsman for Banking Services on 0860 800 900.
Motoring: For problems relating to cars, contact the Motoring Ombudsman on (012) 361-8824.
Insurance or Policy complaints: Contact the Insurance or Policy Ombudsman on (011) 726-8900 or (021) 657-5000.
Consumer issues: Contact the Provincial Consumer Affairs offices (check local telephone directory for your province).
- Ndivhuwo Khangale
 
You can call the Ombudsman: 086 166 2837