CARTOON STRIP
SOCIAL PROGRAMMES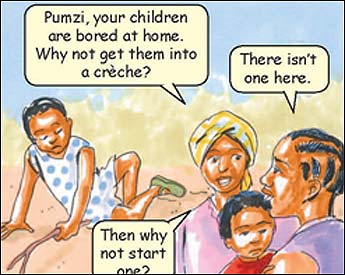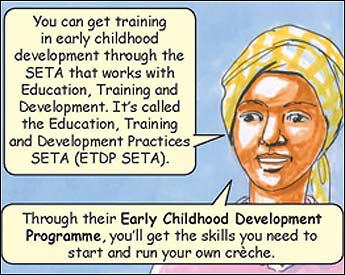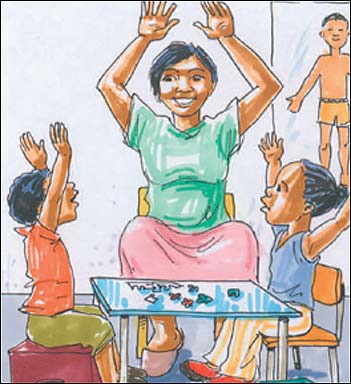 Children from birth to nine years old need special support to develop their bodies, minds and emotions in the the best possible way. Children who have attended a properly run crèche or preschool, have a great advantage over those who have not. Help your children. Help other people's children. Give them the great start in life that will help them develop their talents to the full.
Department of Social Development
(012) 312 7666
Education, Training and D evelopment
Practices SETA (ETDP SETA )
0800 383 773 or (011) 628 5000
HOME COMMUNITY-BASED CARE (HCBC)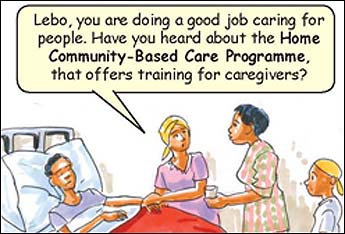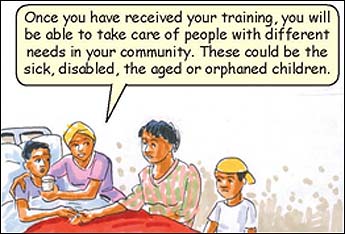 The Home Community-Based Care Programme helps formal and informal caregivers in communities to give health and social services to people who are in need.
Through the programme, trainees learn to:
identify families in need, like orphans, the disabled, and the chronically ill
link these vulnerable families with poverty-relief programmes and services
care for the physical needs of AIDS sufferers and other patients
counsel and comfort the distressed, sick or suffering
help with family planning, burials and getting grants, and other services.
This course is SETA-accredited. Successful trainees can start a facility, apply for a Home Community-Based Care grant to run the facility, and train others to work as Home Community-Based Caregivers.
The following groups of people qualify for receiving help on this programme:
HIV-positive people who do not receive a state grant
Adult dependents of a person who is terminally ill
Unemployed people from a household with an income of less than R1 500 per month
  
Contact: (012) 312 7666/1

Some of us who received training on these programmes have started our own businesses. We used the opportunity not only to gain employment, but to learn skills for the future!
This panel first appeared in Building a People's Contract for Growth and Development, a booklet published by Government.
For more information, contact the Batho Pele Call Centre at 1020