SAFETY AND SECURITY
ROOTING OUT CRIME TOGETHER
 There are signs that certain types of crime are decreasing. In the last five years crimes like assault and rape have dropped. But, during the same period, other serious crimes have increased. Minister of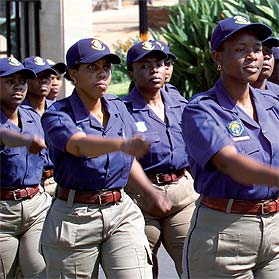 Safety and Security, Charles Nqakula, has given the assurance that, in the end, police will win the battle against criminals. 'We are working hard to prevent serious crimes from taking place and have arrested the most dangerous criminals, who are wanted by the police,' he said when he released the yearly police crime report last month.
More police
Government is putting in more resources in the crime fight. The number of police will be increased and members of the police are encouraged to stay in their jobs. Police will also be trained to deal with all kinds of crime using modern, new equipment. Between June and July the police recovered 5 956 illegal guns and arrested 15 leaders of organised criminal groups. Police Commissioner Jackie Selebi said lists of the most wanted crime suspects have been sent to all provinces. He said 234 suspects would be charged in 216 cases of serious and violent crime. Selebi said 150 criminals who were arrested several times were linked to 471 criminal cases.
Alcohol and abuse
Nqakula said the abuse of women and children in homes was still a serious problem. Alcohol and drugs contribute a lot towards the high level of violence and abuse of women and children in homes. Nqakula said government's 16 Days of Activism for No Violence Against Women and Children campaign encouraged abused people to report to the police. He said this year the campaign would focus on people on farms and in rural areas, informal settlements and townships.
Assault at home
Assault often takes place in homes and between people who know each other. It's therefore difficult for the police to prevent such crimes because it happens behind closed doors, Nqakula said.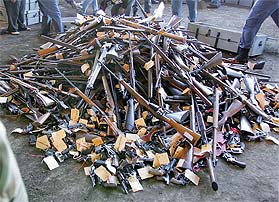 'Sometimes people who are abused fail to report to the police or cancel the cases they have made.' He said organised crime and cross-border crimes remained a serious problem that needed to be solved quickly. The government and business are looking at ways of stopping crime together.
- Justice Mohale
To report crime or criminal activity, call Crime Stop on 08600 10111