STATE VISITS
STRENGTHENING INTERNATIONAL TIES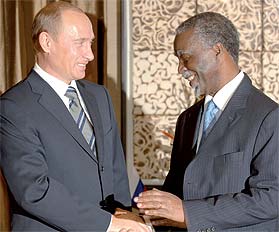 The President, Deputy President, Ministers and Deputy Ministers do not go on state visits just to see other countries, said Deputy Minister of Foreign Affairs, Aziz Pahad. They go to strengthen our relations and economic cooperation with the rest of the world.
Development plans
Our leaders also discuss our development programmes. During a visit to Japan and Indonesia this year, the Deputy President, Phumzile Mlambo-Ngcuka, explained government's skills development efforts and Black Economic Empowerment, because these are not always well understood. She explained how AsgiSA, the Accelerated and Shared Growth Initiative for South Africa, will help us reach our goal of halving unemployment and poverty by 2014. The world's leaders also talk about "hot" international matters, the Minister said. These include the situation in Africa, the Middle East, Iran and Iraq. State visits often include large international meetings called summits. Here, leaders from many countries get together to talk about matters that affect the whole world or a region. Examples are the African Union Summit for African leaders and the Afro-Asian Summit for leaders from Africa and Asia. Summits give our leaders a chance to tell other countries what South Africa can offer them.
Friendship agreement
South Africa also benefits when world leaders come to us on state visits. Russian President, for example, visited South Africa in September. He was the first Russian President to visit us. The visit led to Putin and President Thabo Mbeki signing an agreement of friendship and partnership which could lead to a huge amount of investment in our country.
- Louise van Niekerk