As the country prepares to enjoy the festive season, Transport Minister Dipuo Peters has called on motorists and pedestrians to be more careful and change their behaviour on the country's roads during this time.
The festive period is a time when the country loses thousands of lives due to road accidents.
"The regrettable fact is that road traffic accidents cost the country in excess of R300 billion is very much at odds with our vision to eradicate the triple challenges of poverty, inequality and unemployment. The onus is on us to reverse the damage done by road carnages by placing road safety at the forefront of the transport agenda," said Minister Peters.
She was speaking to Khayelitsha residents at a community event to commemorate World Remembrance Day recently.
"An accident happens when no one is at fault. From statistics, we have gathered that 95 per cent of crashes occur due to recklessness and someone violating traffic laws.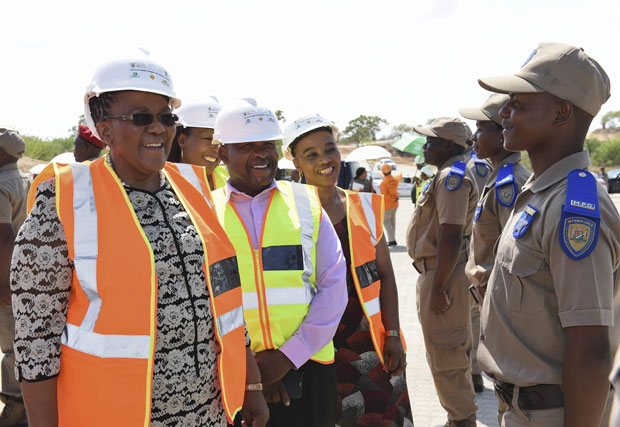 "The people who die on our roads are people we know … people die in buses, others in the trains, other people die walking on the roads. These people are family members. We talk about providers. We talk about leaders of churches. We talk about brothers, sisters, friends, colleagues and people who matter in everybody's lives," she said.
South Africa loses 14 000 lives a year due to road carnage. Out of these, 80 per cent were young people aged between 19 and 34 years.
Minister said the situation needs to improve and motorists need to change their driving behaviour.
"I would like to ask that we change our behaviour and attitudes for the better when we use the roads, especially as we approach the festive season. Buckle up! Do not drive while intoxicated or fatigued, do not use your mobile phone while driving, reduce speed, ensure the road worthiness of your vehicle and always adhere to road regulations. The human and economic cost is too high for us not to re-think the manner in which we approach road safety as individuals."
Minister Peters appealed to the various church leaders to, not only pray for motorists to be safe on the roads, but to also preach safety on the roads in their places of worship.
"Let us tell the people that if we don't speed, if we don't drive recklessly and disobey the rules of the road, if we don't speak on cell phone[s] while we drive, [we can reduce carnage on our roads]."
She further requested that they encourage people to drive roadworthy vehicles.
Accompanied by Deputy Minister Sindisiwe Chikunga, MECs and CEOs of transport entities as well as other transport stakeholders, the Minister laid wreaths to remember those who died on the roads.
She mentioned a number of well-known South Africans who have recently died on the country's roads, including former Ajax Cape Town soccer team defender Cecil Sonwabile Lolo, who died during a car crash on 25 October on Spine Road in Khayelitsha and musician Lebo Mathosa, who died in 2006 in a car crash near Germiston, east of Johannesburg.
South Africa was also robbed of former Public Service and Administration Minister Collins Chabane, who died along with his two protectors when his vehicle collided with a truck outside Polokwane in March this year.
Minister Peters said that ironically, Minister Chabane was, at the time of his death, acting as a Transport Minister and had just spoken about road safety at a funeral that he attended.
New mobile office to process accident claims
Minister Peters also unveiled the Road Accident Fund's mobile office that will be based in Khayelitsha, which will increase accessibility to claimants in far flung areas.
"[This is] the first of its kind. It is innovation. This is a way of getting to, in particular, those people we are worried about. Those people who are on the farms, in the small towns, in the rural areas who we have not been able to get access to services, this vehicle will get to them," she said.
The launch of the 'RAF Mobile Office' follows on the success of the RAF's award winning flagship marketing programme 'RAF on the Road', a community outreach campaign that started in March 2012.
Phumelela Dhlomo, RAF's chief marketing officer, said the mobile office was being launched in time for the festive season when people are more susceptible to motor vehicle accidents.
He said the mobile office would be an extension of RAF's current community outreach campaign, 'RAF on the Road'.
'RAF on the Road' is a programme that sees a temporary office set up in a community to offer full services to members of the public as far as road accident claims are concerned.
Dhlomo said during a recent outreach in Khayelitsha, 1 600 people were reached.
After Khayelitsha, 900 people were reached in Kokstad.
"This year alone, we have reached about 30 000 people through that programme."
Various activations are regularly conducted at churches, shopping malls, taxi ranks, garage forecourts and during joint roadblocks with traffic departments to raise awareness about the fund.
For more information about RAF call the call centre on: 0860 23 556 23. To report fraud call: 0800 00 5919