As government increases efforts to produce at least 30 000 artisans a year by 2030 to stimulate economic growth and enable the country to remain competitive, an increased number of private companies are working with government to ensure that this goal is achieved.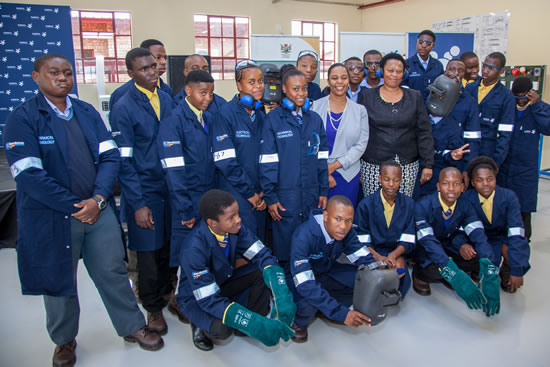 Thousands of learners across Mpumalanga are benefiting from a partnership between the Mpumalanga Department of Education and Sasol Inzalo Foundation.
The petroleum company handed over laptops, learning and teaching material, as well as protective clothing to the department which will assist 2 000 pupils from technical schools in the province.
Mpumalanga MEC for Education Reginah Mhaule said government and the Sasol Inzalo Foundation have already created an enabling environment for pupils to excel and it was up to learners to focus on their studies.
"The Mpumalanga Department of Education is very grateful for the role Sasol Inzalo Foundation has played. Through this initiative I am certain that we will experience an influx of professionals such engineers, technicians or even artisans to mention just a few.
"The department is highly appreciative of institutions and individuals that respond to our call and offer us support. This has proven that a private-public partnerships truly bears fruits."
Learners at schools, who are part of the Sasol Inzalo Foundation-sponsored Technical Schools of Excellence Network (TechSENet), will receive the 625 sets of personal protective equipment for use in practical training workshops. The protective clothing will benefit some 5 000 learners
every year.
Amicent Siwela, 15, a Grade 7 learner at Hazyview Comprehensive School, said he was grateful for the material his school had received.
"The material will really go a long way when doing practicals during our lessons. I really love mathematics and science and being able to do my assignment with proper equipment means that I am one step closer to being a engineer," said Siwela.
Sasol Vice President for Enterprise and Supplier Development, Justice Magagula, said building technical skills is one of the key priorities of government.
"As a partner to government and a supporter of the National Development Plan, Sasol is committed to playing its part to invest in South Africa. We believe this is important as technical skills education equips the youth with life skills to start their own businesses and be able to provide employment to others," he said.
Sasol Inzalo Foundation was established in 2008 to drive excellence in science, technology, engineering and mathematics education at all levels of the education value chain.
Through the initiative teaching and learning material and personal protective equipment was also handed over at technical schools in the Free State and Gauteng.