Written by *Blessing Manale
Tshwane Metro Police officers will be able to respond faster to crime thanks to the Namola App, an innovative crime fighting solution.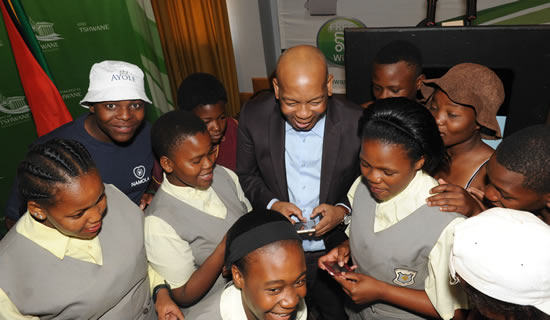 The Executive Mayor of Tshwane Kgosientso Ramokgopa recently unveiled the first phase of the Namola App.
The App is a software solution designed for the Tshwane Metro Police Department (TMPD) that creates a complimentary communication link between officers on the ground and the control room; promotes police accountability and performance and gives citizens a direct link to their nearest police officers.
The introduction of this App means that average dispatch times are reduced from 2 min 38sec to 11sec, a 13 times improvement, said Ramokgopa.
Tablets installed in TMPD patrol vehicles create a parallel communication channel between the control room and the officers on the ground.
This link enables the control room to send broadcast messages such as photographs and written descriptions of stolen vehicles and persons of interest to all or selected vehicles.
"The exploitation of this new knowledge would not be possible without the involvement of the private sector.
"The Namola App is another groundbreaking product we have introduced with the help of Project Isizwe to report and attend to crime scenes at the touch of a button.
"The added benefit of this wonderful tool is that it accommodates the voiceless and less literate groups to use their power to report incidents without difficulty.
"Indeed the partnership with Project Isizwe has enabled the City to ignite wonderful things for its populace," said Mayor Ramokgopa.
Project Isizwe CEO Alan Craig-Knott said the commitment of the political leaders had made the milestone possible. "With their support, the next logical extension is to roll out the massively powerful tool to all emergency services."
The launch also marked the City's groundbreaking free Wi-Fi project, which hit a major milestone of one million unique connections in October 2015.
The Tshwane free Wi-Fi service is the largest government funded public free Wi-Fi in South Africa and has enabled over one million unique users to get online since it launched in November 2013, logging over 40.4 million connections to date.
"We are drawing a demographic dividend from our youth who are now able to engage in rich deep conversations with the City and provide meaningful feedback at the touch of a button," added Mayor Ramokgopa.
*Blessing Manale works at the City of Tshwane.