Local government
When Mary Miles turned 63 never in her wildest dreams did she think she would receive a brand new house from the Northern Cape Government as a birthday gift.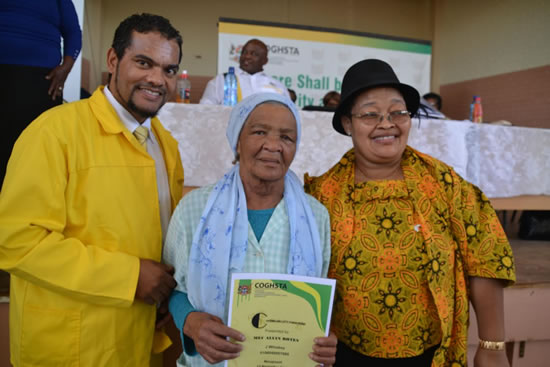 Miles is one of the first 10 recipients of houses built by the Northern Cape Department of Cooperative Governance, Human Settlement, and Traditional Affairs, which are part of the Noupoort 33 Housing Project.
"I am happy that government has honoured its commitment by providing me and my family with a house. It's a birthday present," said Miles.
Noupoort is a town situated in the eastern Karoo.
The department implemented the project together with the Umsobomvu Local Municipality.
The project involves demolishing the old dilapidated houses, which were built before 1994 in Noupoort.
The project is valued at R63 million and involves the construction of 33 houses which are about 40 square meters in size, consisting of two rooms, a bathroom, toilet, an open plan kitchen and lounge.
Northern Cape Premier Sylvia Lucas, who handed over the home to Miles, emphasised that the government was committed to the delivery of quality human settlements.
"We want to make sure that we use public resources in the best possible way to ensure that our people get the best services from government.
"It is our government's conviction that every individual, particularly in the Northern Cape, has the right to adequate housing without discrimination," she said.
The houses were built in accordance with the National Home Builders Registration Council standards.
The event was also attended by the MEC for Cooperative Governance, Human Settlements and Traditional Affairs, Alvin Botes, and the Executive Mayor of Pixley ka Seme District Municipality, John Lolwana.
MEC Botes said that providing human settlements was part of the provincial government's goal of building 65 000 houses in the province.
When delivering his Budget Vote earlier in the year, Botes said his department was committed to rectifying 231 houses that were built pre-1994 with the assistance of the National Home Builders Registration Council (NHBRC).
He added that for the 2015/16 financial year his department committed to plan and survey over 4 000 sites and construct over 1 600 quality houses.
During the 2014/15 financial year the department completed the upgrading of more than 900 informal settlements, said MEC Botes.
*Xhanti Teki works at the Northern Cape Department of Cooperative Governance, Human Settlement, and Traditional Affairs.