South Africans have been urged yet again to use water sparingly. The call was made by the team of government Ministers dealing with water scarcity and drought, which is led by the Minister of Cooperative Governance and Traditional Affairs (Cogta), Pravin Gordhan.
The committee, which is made up of the Departments of Water and Sanitation; Agriculture, Forestry and Fisheries; Rural Development and Land Reform; and Cogta, warned that South Africa is a water scarce country.
According to Minister Gordhan, Cogta has written to all the mayors in the country to take various actions to respond to the situation.
The response includes following the guidance of the Department of Water and Sanitation regarding the introduction of water restrictions and other measures to manage the situation; monitoring adherence to water restrictions and application of penalties where necessary; prioritisation of the repair of water leaks, and the promotion of water-efficient technologies such as low-flush toilet cisterns, rainwater harvesting and use of grey water for irrigation.
"Government is concerned about the impact of the water scarcity and drought to our communities, particularly households, hospitals and schools. It is for all of us in the country to take this situation very seriously," said Minister Gordhan.
Water scarcity is caused by the ongoing lower-than-normal rainfall, which started at the beginning of 2015 and has caused drought conditions across the country. The lower rainfall is caused by El Niño, a global weather pattern that denies moisture to the sub-Saharan region.
According to the South African Weather Service, the dry weather is likely to continue for the remainder of this year and into March 2016, a period during which the country normally gets most of its rain.
"We are the 30th driest country in the world. Water scarcity is a serious issue in South Africa," said Minister Gordhan, who added that the increasing severity of the drought is impacting negatively on the country in both social and economic terms.
The team of ministers also announced plans by the relevant departments to deal with the current situation.
The Department of Water and Sanitation has committed R352.6 million to initial drought intervention projects. In addition, just over R96 million was made available for interim tankering and additional interventions in Kwazulu-Natal.
More funding is still needed for a second drought declaration, which is being led by the Province's Disaster Management Unit of the Department of Cooperative Governance and Traditional Affairs.
The Department of Rural Development and Land Reform announced that livestock from the worst affected regions in five provinces would be relocated to "state-owned land", where there is still better pasture. The department is allocating almost R187 million for this drought relief intervention.
"In the North West we have recently allocated 200 000 hectares of land. I am expecting the provincial government to disaggregate the land in the same way that KwaZulu-Natal did," said Rural Development and Land Reform Minister Gugile Nkwinti.
The drought currently affects 173 of the 1 628 water supply schemes nationally, serving approximately 2.7 million households or 18 per cent of the total national population.
Four provinces - KwaZulu-Natal, Free State, North West and Limpopo have declared drought as a disaster – with Mpumalanga at an advanced stage of preparation for the declaration of drought as a disaster, which will be completed soon.
El Nino Phenomenon
Minister for Environmental Affairs and also a member of the team of ministres dealing with water scarcity and drought, Edna Molewa, said government has been doing work to ensure that the country can plan for such instances.
She said weather predictions are done on a continuous basis. They are done on a short term basis at first and then long-term over a period of six months. The phenomenon is likely to last until summer season, which is next year.
The Minister announced that the South African Weather Services was keeping a constant watch on the state of the El Nino phenomenon, and expects that it will weaken over the winter months of 2016.
Minister Molewa noted that government understands the cycle now comes after three to five years and is an impact of climate change.
She reiterated that South Africa, like all countries, must adapt to a changing climate.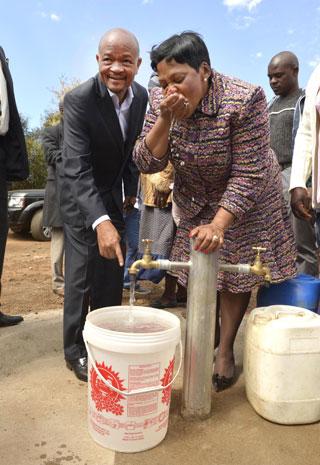 Impact on farmers
Minister of Agriculture, Forestry and Fisheries, Senzeni Zokwana, said the country has declining but sufficient stock levels of white maize until the end of April 2016, while yellow maize stocks will be very tight.
"The 2014/2015 drought affected the availability of white maize, which is a major step as well as yellow maize, which is critical for animal feed. According to the Crop Estimate Committee, the maize production estimate declined 14.2 million in 2013 to 9.8 million tonnes in 2014, 31 per cent less."
He said the department has allocated R66 million to implement a land care programme to reduce veld and soil degradation and water loss and promote conservation agriculture practices.
The department also spent R9 million on drilling boreholes for livestock water, disseminating early warning information and providing appropriate advice to farmers.
He added that the department would continue to provide farmers with weather advisories and warnings to guide future crop plantation and reduction of stock.
Minister Gordhan called on all South Africans to work together to save water.
"We therefore call for partnerships to preserve and act to save water now in our country and plan to use our scarce water resources wisely in the medium to long term as we adapt to the impact of climate change," said Minister Gordhan.