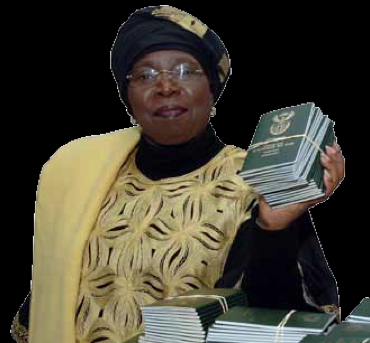 Home Affairs Minister Dr Nkosazana Dlamini Zuma has launched a campaign against the scourge of duplicate IDs which has brought grief and pain to thousands of South Africans.
The first phase of the campaign will see the 29 000 affected South Africans' names being published in several mainstream newspapers, including The Star and The Pretoria News.
As the campaign progresses, names will be published again in various media platforms  throughout the  country, including the departmental website and other forms of technology to get the message across.
The second phase will include a list of 83 000 other South Africans similarly affected. "We have taken the steps to publish the names to ensure we can indeed begin to ad- dress the plight of those gravely affected by the scourge of duplicate IDs," said Minister Dlamini Zuma.
In this regard, the department calls on those whose names appear on the website and in media to approach their nearest Home Affairs offices to help them resolve the matter. All Home Affairs offices will have dedicated counters and personnel to assist  members of the public.
All South Africans are encouraged to check the status of their IDs by sending an SMS to 32551, followed by the letter D and your ID number. Home Affairs systems will immediately verify and provide a response on the status of your ID.
For more information visit your nearest Home Affairs office or call the Department of Home Affairs' toll-free hotline on 0800 60 11 90