Melitha Madiba - Gauteng Department of Health
With more than 50 years in the healthcare industry under her belt, 73-year-old Alicia Mathope is as passionate about the profession as the day she started as a trainee nurse at the then Baragwanath Hospital in 1959. "Caring for people is all I know and I don't think I could fit anywhere except in a profession that provides caring," says the retired veteran from Rockville, Soweto.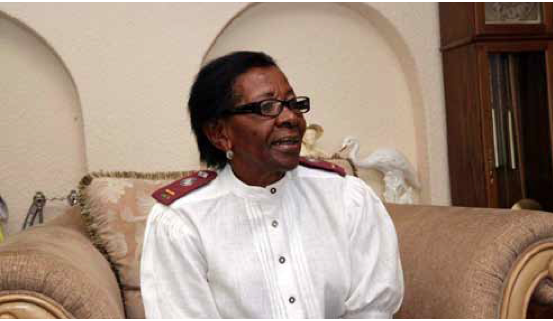 Photo caption: Retired nurse Alicia Mathope says she just could not stay at home, as she had always wanted to help the sick.
Mathope, one of the exceptional Gauteng residents mentioned in Premier Nomvula Mokonyane's State of the Province Address, retired in 1997 from working as a senior professional nurse in the hospital's maternity ward.
But her retirement did not hinder her from heeding a call by Health Minister Dr Aaron Motsoaledi and Premier Mokonyane for retired nurses to come and assist as hospitals were overloaded due to a shortage of nurses.
Thank you
"When I took my nursing pledge I promised to put the total health of patients as my first consideration. So when a call was made for retired nurses to come and assist, I did not hesitate, as being retired does not mean (being) tired," Mathope quipped.
As someone who has been in the profession for many years, she said she also understood the heavy workload that nurses are faced with.
"As nurses, we are overloaded by the number of patients we oversee. We also work under physical demanding circumstances due to long work hours and handling patient demands," she said.
She explained that although staff were faced with many challenges, including strenuous night shifts, a 'thank you' and a smile from patients was what made her look forward to going to work.
One of her satisfied former patients is Mitta Molefe. "Alicia is very patient and readily available to assist in times of need. She helped bring my two girls into this world. Today one of them is a social worker while the other is a medical practitioner," Molefe said.
A calling
Mathope's neighbour, Eva Mkhine, was also full of praise for this dedicated nurse and described her as a hard worker who always went beyond the call of duty to assist others.
"I know Alicia as a cheerful and helpful individual
who does not mind waking up in the
middle of the night when called. My daughter was inspired by her passion and followed in her footsteps. Today, through Mathope's guidance and mentorship, she is the Senior Manager at JB Allen Baragwanath Main Operating Theatre," said Mkhine.
Mathope, a widowed mother of two, said for her nursing is more than a career, it was a calling. Her message to current and prospective nurses is that although being a nurse is not easy, they needed to soldier on and always remember their nurses' pledge whenever they were faced with challenges.
For more information, call the Gauteng Department of Health: 011 355 3000 Vuk'uzenzele would like to feature public servants who are making a difference in their communities like Alicia Mathope. If you know of anyone you would like to see featured send an email to: vukuzenzele@gcis.gov.za