BuaNews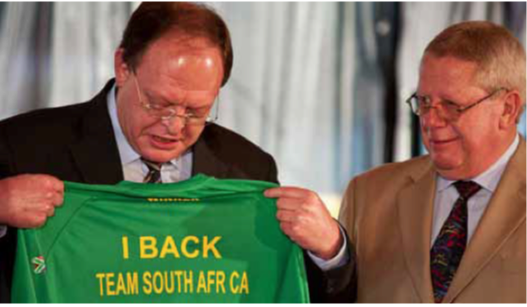 Photo caption: Deputy Minister Gert Oosthuizen receives a Team SA t-shirt from Les Williams, 23 years and I like the adrenalin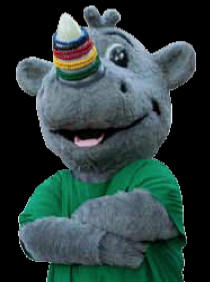 South Africa is ready for the 2012 London Olympics this month and the athletes are confident that they will bring home at least 12 medals.
At a celebration to mark 100 days to the 2012 Olympics, Vice-President of the South African Sports Confederation and Olympic Committee (SASCOC) Hajira Kajee introduced the Team SA t-shirt and asked all South Africans to wear it as a symbol of their support for the South African team.
The Team SA mascot, Chukuru the African rhino, was also on hand to show off his dancing and entertain those present. Members of the public recently voted for the rhino-like mascot as the most popular mascot for Team SA. The mascot is part of SASCOC's drive to create a national identity around the team, also at future sports events like the Commonwealth Games, World Games, All Africa Games and Zone VI Games.
According to Minister of Sport and Recreation, Fikile Mbalula, a total of more than R34 million has been set aside for the preparation of South Africa's Olympic athletes. Most of the money will be transferred to SASCOC organisation responsible for the technical and physical preparation and management of Team SA.
R1 million of this amount was awarded to the South African women's Olympic hockey and football teams, while Swimming South Africa received R2 million.
Minister Mbalula also mentioned the important contribution of the Lotto, which has contributed R47 million to team preparation and delivery.
The trust that our people have put in our national teams to succeed is outstanding, said Mbalula. "We've achieved wonders in 2004 in Athens when we won six medals. We encourage our national teams to lead by a dream of a winning nation," he said.
"Building up towards the 2012 Olympics in London, our teams, including Banyana Banyana and the women's hockey team, have eventually made us proud. … We offer our unwavering support to all our national teams who qualified for the 2012 London Olympic Games. Your country is behind you!"