Feeding scheme changes lives in KZN
Kemantha Govender
Photo caption: Members of the Sikhulile women's cooperative are making positive changes to their community.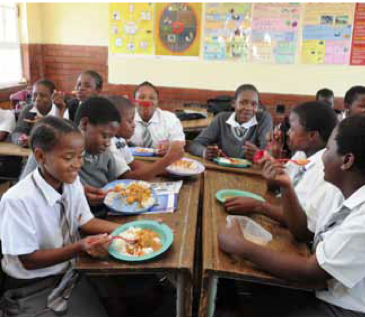 Photo caption: Many learners are benefitting from the feeding scheme.
More than 8 million learners benefit from government's school feeding scheme, said President Jacob Zuma during his 2012 State of the Nation Address. Sindiliwe Zandile Myiko (48) is one woman who knows exactly what the President was talking about.
When children start looking healthy at school, Myiko's heart starts to warm, since it's both her life and those of children that have changed since the National School Nutrition Programme (NSNP) was started in 1994.
Previously known as the Primary School Nutrition Programme, the NSNP was extended in 2009 to serve secondary schools as well.
In KwaZulu-Natal, at least 5 203 schools benefit from the programme and in the 2011/2012 financial year, more than two million learners received meals on a weekly basis.
Happy orphans
Myiko belongs to a women's cooperative in the Empangeni area, north of Durban. With the help of 9 other women, she provides vegetables and other food to 12 schools. This provides learners with meals for at least 16 to 21 days a month.
"Many of the children who receive the food are orphans or are very poor, so it makes me very happy to see them grow and look beautiful because of the food they receive," Myiko said.
Before becoming involved in this project, Myiko was jobless and trying to earn a living by planting vegetables in her back yard. In 2006, she received training in catering and running a feeding scheme. With the other women she received a loan of R280 000 to start a cooperative.
So far, 109 local women cooperatives benefiting 617 members, have been established in the province to provide school meals.
Business skills
Job opportunities in the NSNP programme are also created through contracting different service providers in the form of small medium and macro enterprises (SMMEs).
According to the KwaZulu-Natal Department of Education, 1 757 SMMEs have been contracted in the current financial year. This has empowered and nurtured small businesses and has given formerly disadvantaged women business and operational skills.
During this period, the NSNP also recruited 9 587 voluntary food handlers who receive a monthly stipend of R640 per 300 learners.
Food handlers
The food handlers have been trained in skills such as preparation of NSNP menus, food safety and hygiene to ensure that the food provided to learners meet the required standards. In total 11 961 people, the majority being women, are benefiting through the NSNP.
The food handlers ensure that learners receive a quality, nutritious and well balanced diet of vegetables and starch daily. The meals range from sugar beans curry, phuthu pap, butternut, carrots, rice, samp and beans and more.
Meanwhile, the Education Department in collaboration with the Department of Agriculture, identified community projects in five municipal wards in Umgungundlovu District where vegetables can be bought. Similar projects will be started throughout the province later this year.
For more information, call the KZN Department of Education: 033 392 1085