The role of the National Prosecuting Authority in the criminal justice system

OTHER STATE ROLE PLAYERS:
Department of Justice: court administration Department of Social Development: services for victims of crime
Legal Aid South Africa: legal defence support for accused persons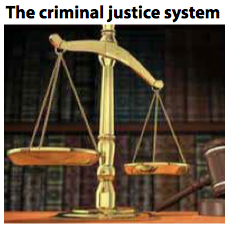 The criminal justice system is called a system for a reason. It represents various institutions that are role players at various phases of fighting crime in a value chain process, much like a relay. The criminal justice system is organised in such a way that each of these institutions can focus on a specific mandate and ensure that they have the right level of skill and capacity for their respective roles. The key role players in the criminal justice system include the police (SAPS), prosecutors or National Prosecuting Authority (NPA), the judiciary or presiding officers (magistrates and judges) and correctional services.
The police are the key frontline forces in the criminal justice system. They are responsible for preventing crime. They also investigate and make arrests.
The NPA is the only organisation with a mandate to prosecute crime on behalf of the state. All prosecutors in South Africa are appointed by the NPA, and are accorded powers in terms of legislation (the NPA Act and the Constitution) to make decisions whether to institute criminal proceedings, as well as any other functions this might lead to. In other words, only prosecutors can place any criminal matters that must be adjudicated in a court of law on the court roll. This happens after the police have submitted case dockets with the necessary evidence to the prosecutors.
Disputes
The NPA only prosecutes matters of a criminal nature – matters of a civil nature fall outside of the realm of the organisation. Criminal cases involve an action considered to be harmful to society; hence you can con- sider the prosecutor your legal representative when fall victim to crime. The long list of criminal offences includes murder, rape, theft, robbery, fraud and corruption. In such cases, the parties involved are the State vs the defendant or accused. In contrast, civil matters not addressed by the NPA are private disputes between persons or organisations, and the parties involved are referred to as plaintiff vs defendant.
Structural arrangements
The NPA is established in terms of the NPA Act to prosecute criminal cases without fear, favour or prejudice. The Minister of Justice and Constitutional Development Jeff Radebe is the Member of the National Executive who exercises final responsibility for the NPA. However, the functional head of the NPA is called a National Director of Public Prosecutions (NDPP) whose responsibilities include developing prosecutions policy guidelines and directives. The Directors of Public Prosecutions (DPPs) are the NPA provincial heads and are responsible for and have oversight over all matters that fall under their respective jurisdictions. Jurisdictions are divided along provincial lines mainly linked to the High Courts across the country.