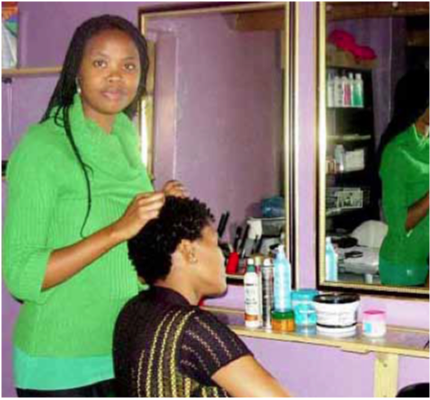 Photo caption: Ponstho Kopung attending to a client.
The beauty of an entrepreneur
Young and driven, Pontsho Kopung (25) is the owner of Setsoto Hair and Beauty Salon. Based in Botshabelo, Bloemfontein, the salon offers a wide range of beauty treatments including manicures and pedicures.
The road to success was not easy for this third-prize winner of the Small Enterprise Development Agency Mangaung's youth-owned successful business; she tried various things before she discovered her true passion.
After matriculating in 2002 Pontsho's hopes of studying psychology were dashed because of financial challenges, but she managed to do a civil engineering course. "I was not passionate about engineering and therefore I did not complete the course," she explains. She moved to a construction company where she worked as a secretary for four months. "I was then accepted as a trainee at the South African National Defence Force, but I was only there for a month because I didn't enjoy it," Pontsho says.
Her light-bulb moment came when she heard an Umsobomvu Youth Fund radio advert, which marketed support for aspiring entrepreneurs.
"I realised that I had always loved hairdressing because I used to do people's hair in high school during my spare time. I decided to ask Umsobomvu for a business loan to buy hair products," Pontsho says.
In 2005, Pontsho received a R700 loan to buy hair products. Two years later she received a R2 000 loan to buy equipment and tiles for the salon. When the Umsobomvu Youth Fund merged with the National Youth Commission to form the National Youth Development Agency (NYDA) she received another R10 000 loan to refurbish the salon.
"I have been able to achieve all these things because of the NYDA's support, I always advise people to use their services and programmes," she says.
In addition to funding, Pontsho got a consultancy services voucher from the NYDA for marketing her business. With this she could get business cards and advertising boards. For just R200, young entrepreneurs can access business development support services such as company registrations, due diligence and tendering support through the NYDA's Business Consultancy Services Voucher Programme.
"I have many clients, so my goal is to open another salon in Bloemfontein, Pontsho concludes.
For more information, call the NYDA on: Ponstho Kopung attending to a client. 08600 96884