Melitah Madiba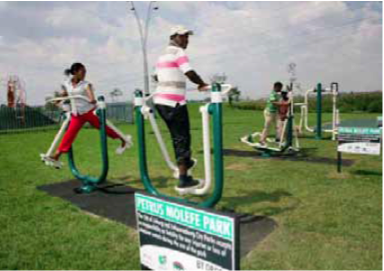 Photo caption: OUTDOOR EXERCISE ... Soweto residents make the most of Soweto's first ever outdoor park
With the Gauteng Province having just wrapped up its Healthy Lifestyle Awareness Month campaign in February, residents welcomed the launch of an outdoor gym in Dlamini, Soweto with open arms.
This is evident as the Petrus Molefe Eco Park is always abuzz with enthusiastic fitness devotees.
Fully-clad in their colourful sportswear, residents actively sweat it out on the world-class equipment at the Green Outdoor Gym every day.
Launched recently by Johannesburg Executive Mayor, Parks Tau, the gym boasts rowing machines, exercise bikes, weights and cross trainers, which are permanently and securely mounted in the park. The park, which is a partnership between the city and the Green Outdoor Gym, is open to all and was designed for people of all ages and fitness levels.
Young Zama Sibanyoni, 11, of Dlamini 1 was overjoyed at the city's initiative and intends to use it regularly. "This gym will help me and the other kids to keep fit while having fun. I am also happy with the security, as that makes me feel safe," Sibanyoni said.
With a lack of exercise listed as one of the major contributors to a number of ailments, such as cardiovascular disease, the initiative wants to encourage communities to practice healthy lifestyles, while keeping fit.
William Mbokane, 24, of Rockville, echoed Sibanyoni's sentiments. "With my meagre earnings, I could not afford to pay for monthly gym subscriptions. But with this is a free gym, I will come here every day after work," Mbokane said.
The BioKinetics Association of South Africa will also allocate biokineticist visits to the park every month for free.