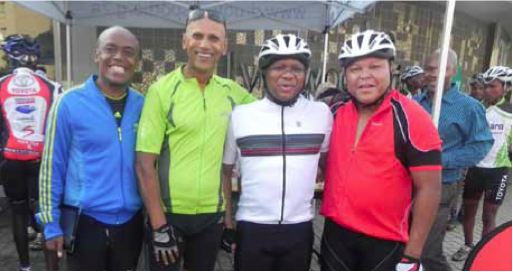 Photo caption: From left: Paena Galane, Paul Singh, Minister Fikile Mbalula, and ministerial advisor Max Fuzani during an Argus week-end training ride.
It's official. Sports Minister Fikile Mbalula will participate in this year's Momentum 94.7 Cycle Challenge to be held on Sunday, 18 November, after receiving his cycling gear and race number, 26318.
Speaking after receiving his gear, the minister urged all South Africans to consider participating in cycling as part of promoting a healthy lifestyle. "Cycling is great, so we are encouraging everyone to participate in cycling. Through cycling, people can fight diseases such as hypertension and diabetes," he said.
Mbalula, who committed to finishing the cycling race in three hours, said he will not be competing to win. "I will not be competing to win the race, but to raise money for my own foundation so that we can use it to fund the educational needs of poor girls."
Mbalula said he cycled about 20 kilometres every morning. "It is pity that for security purposes, I cannot reveal my route. The only time I don't cycle is when I am outside the country." Upon receiving his race number, Mbalula jokingly said: "I would have like to get 46668 as my racing number."
Entries for the Cycle Challenge are open and all route information will be made available soon.