Written by *Ncedo Kumbaca
The Eastern Cape Department of Transport Customer Care Centre (CCC) has continued with its impressive resolution of Presidential Hotline enquiries.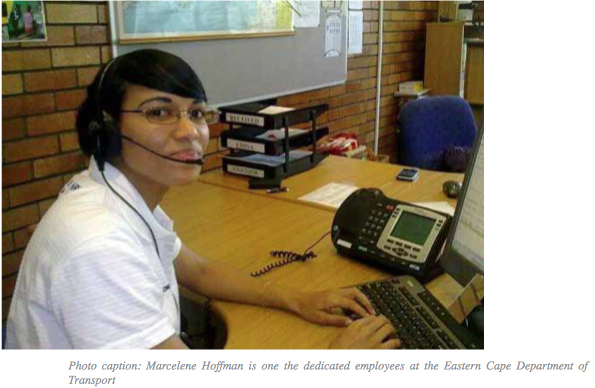 According to a report released by the Presidency, by the end of October 2012 the call centre had resolved 63.3 per cent of enquiries received.
Nomfusi Telma Nonwana is one of the many the CCC has helped.
"Through this customer care number, I was able to receive my pension fund which I was owed by the same department for the years I worked there from 1979 to 1983. I am very happy and appreciate the manner in which my complaint was handled by the Presidential Hotline," she said.
Another case is that of Pine Pienaar who is a member of the Provincial Legislature and DA shadow MEC for Roads and Public Works in Bhisho.
He contacted the call centre after he received a call from his colleague at the legislature, Veliswa Mvenya, who was lost on a dirt road between Port Elizabeth and East London at 5:15am on a Sunday.
The operator immediately contacted her and directed her to the main road.
The operator then called Pienaar to tell him that Mvenya was safely on her way home.
"This excellent service on a Sunday, at such an hour, must be acknowledged and applauded. Well done to the department and the call centre," said Pienaar.
Lindile Mfazwe of Arah Soccer Academy in Mdantsane also expressed his appreciation for the assistance he received.
He had requested help with funding for transport and a new kit.
"We were afforded the opportunity to make a presentation on what we needed help with. As a result of a meeting which was set-up between ourselves and the department's Special Programmes Unit and we also got regular call backs to be updated on the status of our case," said Mfazwe.
The CCC was established to handle enquiries received by the department and its staff members were educated on the department's functions.
The centre currently has dedicated two officials to specifically work on Presidential Hotline calls for proper resolution and monitoring. Each week, a day is dedicated to focus on Presidential Hotline enquiries.
The CCC number is 0800 644 644.
* Ncedo Kumbaca works for the Eastern Cape Department of Transport.