Written by Samona Murugan
Textbooks will be delivered on time to schools across the country this year. This is the promise from the Department of Basic Education as it beefs up efforts to ensure that schools, especially in Limpopo, receive all textbooks before the start of the 2013 school year.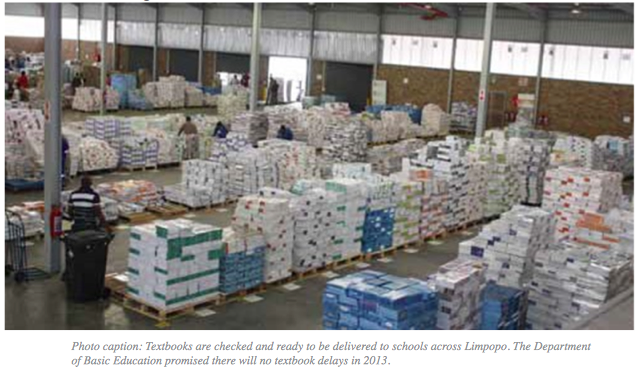 The department launched a Delivery of Learning and Teaching Support Material programme in Limpopo, the province that experienced the worst delays last year.
As part of the programme, all 5.5 million Curriculum and Assessment Policy Statement (CAPS) aligned textbooks were de- livered to 3 950 Limpopo primary and high schools by 30 November 2012.
All Grade four, five. six and 11 learners received textbooks and all grades also received stationery packs, thanks to National Treasury - which put up a whopping R380 million for the procurement and delivery process and R129 million for the stationery packs.
To assist with the delivery, 100 additional staff were hired and contracted to the Limpopo Department of Education.
Ensure quality
All staff were put through intensive training to ensure quality, correct picking and intensity to meet the delivery time frames. The complete door-to-door delivery plan for the textbooks was in line with the exact learner numbers; and packs of textbooks were supplied per grade, subject and language provided by the province.
All textbooks were received from the publishers and were checked within seven days to ensure that all the titles and number of books were correct and in good condition.
Schools were contacted before each delivery, which began with grade readers on 3 November and was completed by 30 November. De- liveries of leftover stock to districts and circuits for possible school top-ups were completed by 7 December.
Basic Education Minister Angie Motshekga confirmed that the department had adopted a high-tech system that allowed staff to track all phases of the delivery process. A freight management report was used to verify the delivery details of each school and a disc with individual delivery signatures was verified. "We are confident that we have done all that's necessary to ensure that all the schools have the correct books at the right time," said Minister Motshekga.
Cost savings
By planning ahead the department saved R146 million, which is almost a 38 per cent saving on textbooks. The team managed to do this by re- questing at least three reduced quotations from the publishers per textbook, subject, language and grade. The quotations were shortlisted, inspected and then chosen.
All schools did not receive new textbooks for every subject, but were given new textbooks for the grades affected by the introduction of the tweaked CAPS in 2013.
"A textbook has a life span of three-five years, thus other grades can still use last year's textbooks for a few years to come. Schools and parents must ensure that learners return textbooks to schools so they can be used again the following year," said Minister Motshekga. "We will however be doing top-ups where necessary."